This article has been taken from the IABM Journal Issue 108. To see the full Journal click here.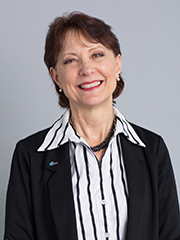 Kathy Bienz
IABM Director, North America
2018 is in the record books – after being capped off with a terrific IABM Annual Conference (more below) – and 2019 has rocketed out-of-the-blocks with on-going major shifts in the industry. IABM is here to help strengthen the understanding of these changes and to foster successful collaboration between media providers and suppliers.
IABM Annual Conference
I experienced my first Annual Conference, held in the U.K. on December 6th and 7th, 2018, and am proud to be associated with an organization that delivers such a relevant and engaging information-sharing event for our membership. While held in the U.K., there were numerous Americas region attendees and I want to encourage greater Americas representation in 2019 –it will be well worth it.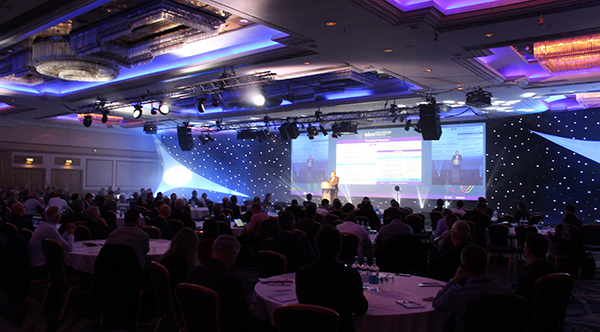 The four major themes for the Conference were thoroughly explored via captivating presentations and interactive events:
THEME 1 – Why We Built It Ourselves: More and more broadcast/media companies are taking the lead on developing their own content supply chain solutions, completely changing their relationships with technology vendors. We heard how partnerships are being redefined and case studies of exciting build-it-yourself projects.
THEME 2 – Transformational Technology: New technology is changing the face of the content supply chain. We met the Blockchain pioneers, asked if AI is more than marketing hype, and looked at the future of sports with virtualized remote production.
THEME 3 – New Revenues, New Business Models: As established media revenues come under threat from the FAANGs, it's time for new business models, new approaches to ad tech and subscriptions, and new ways to pay for the enabling technology.
THEME 4 – New Media: The rise of OTT is spawning a new generation of disruptive digital media businesses connecting content and brands to consumers in completely new ways. We learned how these new players are changing the game in the way they run their content supply chain.
We hosted our first 'Meet the Buyer' event in which several end-user organizations spoke of upcoming projects and what each seeks in successful relationships with vendors. These were followed by a type of 'speed dating' where vendors had about 10 minutes of speak one-on-one with buyers for whom they had applicable offerings. This event was extremely well received by both buyers and vendors and you won't want to miss a future one.
During our Gala Dinner and Awards Ceremony, we announced the 2018 BaM Award® winners from the NAB and IBC finalists in each of the 10 Content Chain categories. The competition was stiff and judging challenging, and congratulations to the 2018 winners!
View all sessions from the IABM Annual International Business Conference at www.iabmannualconference.com/
IABM Americas Executive Summit, Los Angeles
The first of three regional Executive Summits was held February 27th in Marina del Rey, CA, on the afternoon following the conclusion of VidTrans. It was a great collaboration with special thanks to Telestream, the Summit sponsor, Video Services Forum and the IABM Industry Collaborative Group.
I opened the event with a brief presentation on the wealth of IABM member benefits that enable the industry's providers to expand their engagement and support of end-user clients, and I highlighted the best methods to find the desired information on the IABM website.
Randall Heer, Founder, Partner & CEO of Vista Studios, presented a case study on a global, live production at Vista Studios that included extensive interaction from across the globe on a range of social media platforms. The preparation and agility needed to handle this type of leading-edge live production was fascinating.
Pat Griffis, VP Technology at Dolby Labs and President, SMPTE, presented an enlightening presentation titled "HDR: From Dream to Mainstream". We learned how HDR color volume and dynamic HDR color mapping can spectacularly improve viewer experiences, as evidenced by the many impressive image comparisons that were presented. Pat highlighted the extensive adoption of HDR within the marketplace across all types of media/broadcast organizations, video source devices (Blu-ray players, STBs, game consoles, etc.), mobile devices, PCs and more.
Stan Moote, IABM CTO, delved into the most recent drivers of change in the global broadcast/media industry as revealed from IABM's latest technology and business intelligence research.
He illustrated how these are translating into a shift in demand for media technology, from the deployment of cloud technology and remote production, to the adoption of artificial intelligence, machine learning and blockchain.
During networking time following the presentations, the attendees sought out the presenters and many good conversations took place for almost two hours over appetizers and drinks.
Check the IABM site to register for upcoming Americas Summits on May 9th in New York City (follows Streaming Media East) and October 4th in Atlanta (precedes Cine Gear Expo).
Highlights in North American Broadcast and Media Industry
The NAB Show is all about keeping your finger on the pulse of the latest developments across a myriad of areas and evaluating if and how they factor into your business. The IABM can help you to summarize the breadth, speed and impact of change in the industry in the annual NAB Show 2019 Special Report, which is nearing completion. It delivers invaluable insights from direct feedback from content providers and solution suppliers. Visit the IABM site to sign up to receive the full report. Here are some sneak peaks to keep in mind as your traverse the NAB halls.
Drivers of Change
We consolidate the latest drivers of change into three areas.
1: Under Pressure – Increased competition and investment from the rise of 'infinite' content
In the U.S., the number of original scripted series has grown from just over 200 series in 2010, to almost 500 in 2017! In 2018, the investment in original content by FAANGs has grown by over 30%. This exacerbates the efforts by all media providers to consistently draw eyeballs to their content. Closely tied to this is driver No.2 below.
2: Face-To-Face – Media companies get closer to consumers with DTC offerings
Direct-to-consumer focus is evidenced by our survey of the top technology priorities for content providers, and 60% state their highest priority is multi-platform content delivery. Content providers want to be on all devices and platforms and need to establish relationships with device manufacturers in order to capture younger viewers with their fragmented viewing habits.
3: Bigger Than Us – Search for scale via consolidation, collaboration & globalization
Multi-billion-dollar acquisitions are on the increase as media companies consolidate to find better scale and reach. Bob Igor of Disney circles together all three of these drivers in his statement when they acquired 21st Century Fox: "There are three primary strategic priorities fulfilled by this acquisition. It will deliver more content, the production capabilities and talent to produce even more. It will enhance our direct-to-consumer initiatives with platforms, technologies, brands and existing customer relationships to build on. And it will greatly diversify our businesses geographically".
Buying Trends
The above drivers show key business strategies media companies are taking. Let's take a deeper dive into the three major buying trends to expect from them in supporting these strategies.
1: Media Factory – Search for operational efficiency & agility
Our survey of end-users reveals that of their 13 top factors influencing technology purchases, they reported the top three as:
'Make us more efficient' from 47% of respondents
'Make us more agile' from just over 41%
'Total cost of ownership' from almost 39%
Clearly, vendor solutions need to deliver operational speed, flexibility and cost-effectiveness.
2: Flexibility – Transition from CAPEX to OPEX & New Payment Models
The industry shift from CAPEX to OPEX is not new, however it is now augmented with the need for new payment models. Subscriptions, permanent licenses and pay-as-you-go software solutions are on the rise as media companies transform their infrastructures.
3: BIY – Need for flexibility prompting media companies to build their own solutions
Media companies are ramping up their build-it-yourself (BIY) capability through two avenues. First is bolstering internal development teams, with 53% of media companies set to increase internal software development investment in the next year. The second is through acquisitions of technology suppliers, such as Disney of BAMTech.
Our surveys reveal the top area they are implementing BIY is in the BaM Content Chain® category of Manage, which is managing and preparing completed content (audio, video, metadata) for publication. 44% rank this most important. Next in important is Microservices, which has already been adopted by a fourth of users.
I hope this snapshot of these initial insights from IABM's research can assist you as you conduct your NAB business. Read the full NAB report here.
Have a terrific show and don't forget – wear comfortable shoes and hydrate!
Search For More Content