This article has been taken from the IABM Journal Issue 108. To see the full Journal click here.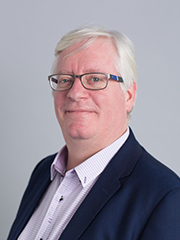 Peter Bruce
Director APAC, IABM
5G in Asia: this is not a drill!
At the tail end of 2018 there were many announcements from telcos and governments regarding the roll out of 5G in the APAC region. What is really going on behind those headlines and what should we expect in the coming 1-2 years?
Firstly, it is true to say that 5G will shake things up for many industries and that includes Broadcast and Media. Already at International media conferences we are hearing the words 'Game Changer' and 'Paradigm Shift' when referring to 5G. In this case the words are not overstated.
What's the technology about?
Before we address the individual political, economic and commercial reasons affecting 5G roll out in the APAC countries, it is important to understand why 5G is such a big thing. As anyone working with waves will know, the higher the frequency, the more bandwidth available hence the greater the data rate, but higher frequencies also have a shorter range and reduced ability to penetrate barriers such as building walls. On the practical side of the roll out, this means many more sites are required compared to the much lower frequency (so longer range) 3/4G networks that we know, but with physically smaller receive antennas (and the ability to have miniature Tx devices). In some countries these sites will number not just tens of thousands, but hundreds of thousands of receive and redistribution sites.
To give you a glimpse of the technical detail, 5G will transmit over three frequency bands. 'Low-band 5G' has the cells running at 700 Mhz (in some cases up to 2.6 Ghz) as in use today. The 'High frequency band' is between 3 Ghz and 5 Ghz and 'Very high 5G band' (often referred to at MMW – millimeter wave) uses frequencies from 24 GHz to 30 GHz, with some countries also allowing from 37 Ghz to 45 Ghz.
So what is the benefit and what is the fuss about?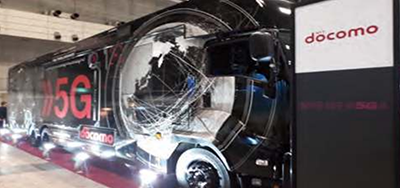 The high data rate will enable speeds of tens of Gbps direct to the consumer with very low latency. This directly competes with the likes of cable and fiber offered now. Already some telcos are discussing that the way to go is to 'cut the cord and go wireless'. On the professional broadcast side, the higher bandwidth will be ideal for use in applications where contribution links from the stadium to TV station are presently using the assigned RF spectrum. The other major advantage is the very low latency, enabling fixed links and contribution via direct wireless cameras – for example, live contribution into the production. The nature of 5G will easily allow return feeds back to the camera operator. Will this boost remote production? –absolutely!
Additionally we have already seen 3/4G solutions take over camera contribution feeds for news gathering and remote production. 5G will replace that and then take over the permanent fixed links market too. There are just too many practical applications where 5G will benefit live broadcasters who are using bespoke industry solutions at present; this could even be down to sensors inside the ball at a sporting event for example. Once the initial 5G roll out is complete, new applications will be arriving for the professional if not the consumer end of media.
What's happening on the supply side to get the sites together and develop the multitude of consumer technologies that will be coming online?
We see the major suppliers (DT Mobile, Ericsson, Huawei, Nokia, Samsung, and ZTE) battling it out on the world stage. Recently we have seen moves to prevent Huawei infrastructure technology being used in a number of countries at the behest of national governments and major telecom companies citing security concerns. Because the 5G network will be core to the movement of data including IoT, autonomous cars, communication data and so on, it is becoming a highly political and sensitive subject, particularly in 5G receive and re-distribution sites. This is not only a battle to control long term technology and communications devices, but also a fight for very well-paid jobs in those countries developing and supplying the technologies.
What type of numbers are we talking globally?
MIT Technology Review reported that 'By 2020, analysts estimate that there will be more than 20 billion installed IoT devices around the world' and that 'Researchers also foresee 5G supporting 22 million jobs around the world' and an estimated '$12.3 trillion of revenue across a broad range of industries'. This is big jobs and big economics, so it is the top priority for the major technology suppliers of the Asian nations to focus on and prepare for 5G. The race is on among the three technology power houses of China, South Korea and Japan who are promoting and pushing the roll out of 5G. They are fully aware of the impact of 5G and potential economic advantage that they can gain.
So where are we with the roll out of 5G in Asia Pacific?
This is an interesting topic as the timing will depend on the individual strategic, political and economic situation in each country within the APAC region.
As mentioned previously China, South Korea and Japan see 5G as key to future technologies; all three countries have started 5G testing.
Within China's 13th 5-Year Plan, 5G was very much in focus and announced as a 'strategic emerging industry'. The three main Chinese telecoms companies are all state run, and they are in full planning to roll out 5G across all major cities of China –they began research in 2013 and initial testing in 2016. The roll out will help China achieve its 5-Year Plan to increase internet speeds across the vast country.
Japan's main telecommunication companies (NTT Docomo., KDDI Corp. and Softbank Corp) have announced the roll out of 5G one year earlier than expected and they are rolling out sites in main cities in 2019. Japan's move forward may be impressive, but South Korea will not be left behind with the switch-on of 5G sites for commercial use already having happened in December 2018 and consumer mobile services expected to start in Q1/2 of 2019. The initiatives are being led by KT, LG UPlus, and SK Telecom. From the media perspective all three countries see 5G as suitable for the distribution of UHD signals.
For the other countries in Asia the roll out will depend on several factors. Thailand set up the first test bed in South East Asia with the help of Huawei (ignoring pressure from the USA to not work with Chinese companies). Meanwhile in the Philippines, President Duterte has been frustrated with having one of the slowest internet speeds and infrastructure across ASEAN, having not seen speeds increased by the two incumbent telecom operators (PLDT and Globe) in the 2+ years since he took office. Duterte has taken action by announcing a third licence for a telco operator in the country, and this has prompted both PLDT and Globe to announce 5G services launching in mid-2019. Singapore was the first to switch off the analog TV Signal in ASEAN in December of 2018. This has allowed Singapore to re-allocate the spectrum for low frequency 5G use, with announcements from Singtel on a 5G switch-on plan in 2020. Almost all other counties in South East Asia are now starting to test and have plans in place for the roll out of 5G within the next two years.
There are several risks that may delay the roll out of 5G in many countries in Asia. At Convergence India, the main topic of discussion was the commercial aspect of the 5G roll out. Many of the telcos had over-paid for the previous 3/4G licences that were auctioned, causing huge debts and either closure or mergers of the companies. 5G fits very well with India's (and Prime Minister Narendra Modi's directive) program of smart cities, IoT and Digitising India. Additionally India and many Asian countries are in an 'election year', delaying any decisions on licences. In some countries in Asia (and globally) the government's strategy must be to understand how to fund the 5G roll out and is influenced by the individual countries' political situations.
Conclusion
5G is coming to Asia. Although there are many headline announcements on testing in several countries, the practically of covering the thousands of receive sites across a country, combined with the suppliers' time to market for new 5G solutions, means that the practical roll out of 5G will take time. The technology will result in innovations and applications that we have not even thought of yet and it will be a real 'Game Changer'. Remember that this is reality and is going to happen: THIS IS NOT A DRILL!
Search For More Content