CONNECT CATEGORY BaM™Award Nominee: Artel Video Systems – SMART Media Delivery Platform™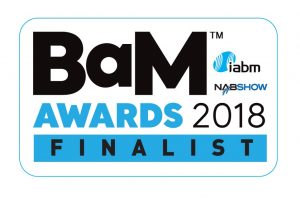 Artel's SMART Media Delivery Platform™ is the conduit to simplifying the convergence of IT and broadcast ecosystems. As a base platform supporting native IP media delivery, the SMART platform's architecture provides feature flexibility and future functional expandability via software download.
By using the latest networking and processor technology the SMART Media Delivery Platform has achieved a high level of integration and the agility to navigate media through next-generation networks
Integrated Switching Capability
– A non-blocking layer 2/3 switching and routing engine has been incorporated into the SMART platform to interface with the network eliminating the need for an external switch or router. The integrated switching capability allows for deep packet inspection, traffic management, flow control, protection switching, and link aggregation that can be easily configured through an SNMP interface.
Control and Management – Simplifying the migration to an IP infrastructure, the SMART platform's control and management interface allows the ease of integration, operation, problem detection and isolation.

Designed for Service Provider and Broadcast Networks

– The SMART platform is designed to support transport and data services, and broadcast network video, audio, and IT network applications. With a single module, multiple ports of media may be aggregated and injected into the network without the need for different physical elements. The SMART supports SMPTE ST 2022-7 hitless switching, VLAN tagging, QoS, and traffic management. These functions along with greater port density drastically reduces power consumption, size and cost.
Software Defined Functionality – The migration to IP has increase the need for more agile solutions. The SMART platform is designed to update functionality and add new applications via software download providing a solution to manage multi-platform content delivery and advertising revenues
The SMART Media Delivery Platform's small footprint, true data networking and transport versatility, software-defined functionality, and high density opens up new opportunities for media transport and broadcast applications and allows for a seamless transition as IP networks evolve.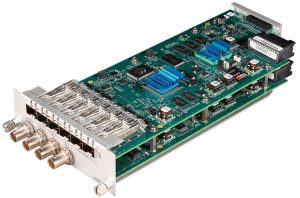 The SMART ST2022 is a four-channel auto-sense 3G/HD/SD-SDI-over-IP multifunction gateway. This single double-high module can be configured as a video to IP transmitter or IP to video receiver; offers fully transparent carriage of 3G/HD/SD-SDI, and ASI including audio and ancillary data, four GigE data ports bridged to 10G interface and supports SMPTE standards-based IP Encapsulation, Forward Error Correction, and Seamless Protection Switching. Additional information about the SMART Media Delivery Platform is available at www.artel.com/SMART.
About Artel Video Systems
Artel Video Systems is a world-class provider of innovative real-time multimedia delivery solutions serving global markets. Today, most live events in the U.S. traverse Artel products to support their mission-critical workflows. Artel's expertise in IP- and fiber-based technologies spans more than 30 years and has established Artel as a trusted partner in the development of reliable, standards-based IP infrastructures. Artel's integrated solutions include fiber- and IP-based multimedia delivery, data networking, IP streaming, and precision timing. Artel is an employee-owned business. More information is available at www.artel.com.
Search For More Content