CREATE CATEGORY BaM™Award Nominee – Chrosziel – CDM-MZ-Z zoom servo drive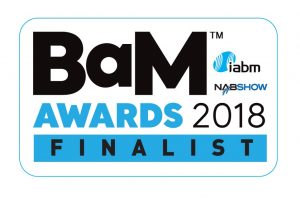 For decades working broadcast for ENG/EB camera operators was challenging: leaving the left hand on the focus ring all times – while making focal length corrections with the zoom rocker controlled by the right hand.
Also, 35mm reasonably priced cameras entered the ENG/EB production for a while now offering benefits of a large format sensor, while shooting on the go creating the need for cine style lenses for high quality shots. With the MK 18-55mm and MK 50-135mm zoom lenses Fujinon offers competitive lightweight cine lenses for 35mm cameras, but without a zoom motor. So, Chrosziel decided to fill this gap and developed the zoom servo drive CDM-MZ-Z. The challenge was to get it reasonably priced, because no one who bought a MK lens is willing to pay the same price for just one accessory. Finally, Chrosziel did it.
The motor with gear and a PCB with CPU is fully integrated in one small housing that weighs only 130g (0.29 lbs.) and is as small as just a few AA batteries in a row. It is mounted within a few seconds with two captive screws. Combined with the Fujinon MK lens it makes an easy to work and carry combination – ideal for TV run & gun.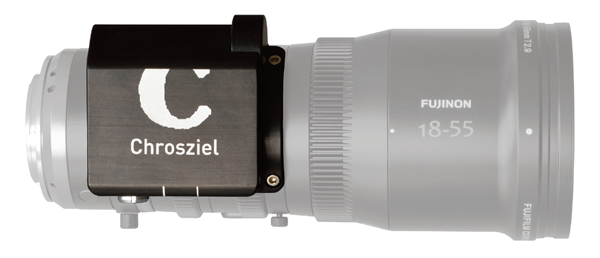 The unit is powered via D-Tap – so any V-Mount battery or 'better' in-camera batteries (BP-U style) can power it. For users with full Sony workflow Chrosziel offers a power cable with Hirose 4-Pin connector. As soon as the camera (and the unit) powers up it starts calibrating offering four different user designed zoom behaviors including soft ramping for smooth zooming. That sorts out even LANC shortcomings.
The CDM-MK-Z is not just a simple motor, since it hooks up to the FS7/FS5 LANC protocol, and simply uses the Sony standard zoom grip/rocker combination, takes the rocker data and translates it to the zoom motor. All other control commands are still working, the zoom servo drive forwards the LANC data also back into the camera, so it sits in the middle between Sony handgrip and the camera's body.
But the LANC protocol and the Sony handgrip offer only eight speed levels in total: there is a need for sophisticated options. With the help of professional camera operators, feasible zoom curves were developed: One mode is meant to be 'EB/Documentary' (fast, but not too fast, crawl speed zooms possible, too), others are much quieter (Silent Mode) or much faster for live production or hard-cut work like rock concerts, where a fast focal length change is essential. Overall, Chrosziel brings back beloved EB/ENG workflows (zoom in – focus – zoom out) into lightweight, low-priced cine zoom lenses, too.
Chrosziel innovates and manufactures fine precision mechanical, optical and electronic products with more than 40 years of experience. Chrosziel Professional Camera Accessories, Lens Control Systems and Lens Testing Instruments are widely used and respected in broadcast, cine, and lens service. The products are available in more than 50 countries worldwide.
The Chrosziel servo unit CDM-MK-Z is designed for Fujinon MK 18-55mm T2.9 and MK 50-135mm T2.9 zoom lenses. In the compact housing of the CDM-MK-Z are a digital servo motor, the gear and a control unit with power booster. Due to three zoom modes (EB / Documentary Mode, Live / Hardcut Mode / Silent Mode) the Chrosziel servo unit CDM-MK-Z raises your zoom abilities to the next level.
Search For More Content