CONNECT CATEGORY BaM™Award Nominee: CONNECT CATEGORY BaM™Award Nominee: MuxLab's new IP-Based Extender supports ST-2110 and NMOS API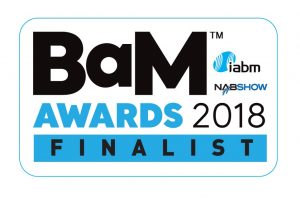 MuxLab's new 3G-SDI/ST2110 over IP Uncompressed Extender (model 500767) provides two methods of signal extension: one riding on an IP-infrastructure running 4K AV through a 10GB Ethernet switch; and another allowing a more traditional point-to-point extension using CAT5/6 or fiber cable. In both scenarios, uncompressed resolutions up to 4K/30 are supported.
When riding on an Ethernet network, this new solution interconnects and delivers nearly unlimited combinations of HD-SDI and 3G-SDI cameras other video sources plus displays in point-to-multipoint and multipoint-to-multipoint configurations. When used in combination with cabling, it can send SDI up to 30 meters when using CAT5/6 cable and up to 400 meters when using multimode fiber cable in more traditional point-to-point scenarios.
A 1Gig Ethernet Switch port is provided for the connection of additional network devices; an RS232 port allows for the remote control of end devices. The 3G-SDI/ST2110 over IP Uncompressed Extender supports SMPTE ST-2110 and the NMOS API for convenient third-party management. It is designed for use in all commercial broadcast AV systems including news, sports and TV stations.
This new Extender joins MuxLab's growing family of uncompressed extension solutions supporting the higher resolutions in play today. MuxLab is a leading designer of connectivity and distribution solutions for commercial and residential installations of all sizes. Though specializing in the professional AV and broadcast markets, MuxLab products have been implemented on countless, high quality AV installations in every major market around the world. Since its inception in 1984, the company continues to be a forerunner of technological advances in signal distribution and connectivity.
In addition to this solution supporting the uncompressed delivery of SDI, MuxLab also offers another version that supports systems using HDMI. The HDMI 2.0/ST2110 over IP Uncompressed Extender allows HMDI 2.0 equipment to be extended either using duplex multimode OM4 fiber with LC connectors at up to 4K resolution @ 60Hz uncompressed in a point-to-point configuration or via a 10GB Ethernet network. When IP-based, point-to-multipoint and multipoint-to-multipoint configurations are possible by connecting all devices to the Ethernet network.
While keeping up with emerging technologies such as ST-2110 in broadcasting, MuxLab's mission has remained the same: provide easy to use and affordable solutions that deliver all forms of AV anywhere. MuxLab's extensive, flagship line of AV over IP solutions covers all major compression technologies including H.264 /H.265, MPEG and JPG2000, as well as uncompressed signal delivery up to 4K/60 resolution and many audio options, offering solutions for HDMI, DVI, DisplayPort, SDI, KVM and Audio applications. A forerunner of the AV over IP evolution, MuxLab continues to deliver comprehensive, game changing IP-enabled systems for both commercial and residential installations.
A forerunner of the AV over IP evolution, MuxLab continues to deliver comprehensive, game changing IP-enabled systems for both commercial and residential installations - BaM™ Product Highlight: MuxLab Click To Tweet
Search For More Content