PROJECT, COLLABORATION OR EVENT CATEGORY BaM™Award Nominee: Nevion an architect of virtualized media production, provides media network and broadcast infrastructure solutions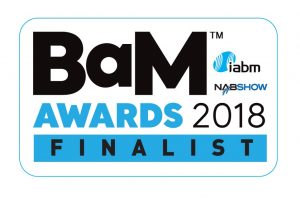 Increasingly based on IP, virtualization and Cloud technology, Nevion's solutions enable the management, transport and processing of professional-quality video, audio and data – in real time, reliably and securely. From content production to distribution, Nevion solutions are used to power major sporting and live events across the globe. Some of the world's largest media groups and telecom service providers use Nevion technology, including AT&T, NBC Universal, NASA, BBC, CCTV, EBU, BT and Telefonica.
Today, Nevion is a forerunner in the IP revolution, dedicating its research and development to IP technology and software defined networks (SDN) for professional broadcast.
From content production to distribution, Nevion solutions are used to power major sporting and live events across the globe - BaM™ Product Highlight: Nevion Click To Tweet
When a move to new facilities offered them an opportunity to rethink how it produced content, TV 2, the largest commercial television broadcaster in Norway, chose Nevion as its partner to supply equipment, software and importantly, knowledge to create a distributed production network based on IP.
TV 2 wanted a solution that would enable any control room to be used with any studio across both its facilities in Oslo and Bergen. It also wanted the signal processing capabilities to be pooled and effectively virtualized.
It made no sense for TV 2 to build new facilities using legacy baseband technology (SDI) so it decided that the whole media network should be based on IP. This was a brave move as the use of IP technology in the facilities was still in its infancy when they made the decision and the time-line for the move was demanding.
Nevion has a significant track record in delivering large-scale IP projects though, and offered a solution including its flagship software-defined media node Virtuoso, and its orchestration and SDN control software, VideoIPath, which support the LAN/WAN convergence essential to achieving a seamless multi-site production capability.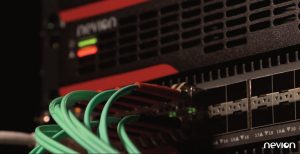 TV 2's Bergen facilities are now totally IP-based, with a core SDN for all live production and broadcast routing requirements. The Virtuoso's SDI to IP adaption capabilities mean existing studio multi-vendor equipment can be used on the network – as well as new IP equipment. The network at these facilities is based on a distributed spine-leaf architecture, with Cisco Nexus 100G spine switches at the core and Nevion eMerge 10GE and 40GE switches deployed as redundant top or rack leaf switches.
The facilities in the two locations are connected via a fast and resilient IP WAN network. Nevion Virtuoso software-defined media nodes are used to provide JPEG 2000 encoded and uncompressed video for transport between both sites. High availability is ensured by using dual path network transport with SMPTE 2022-7 seamless IP protection switching (SIPS) for all media streams while Nevion VideoIPath is in place for the management and monitoring of all connections between both sites.
Nevion's solution is more than just the equipment and software, it also includes experience and know-how – design, architecting and professional services – which ultimately made the biggest difference, enabling TV 2 to reach its objectives within the tight time-frame.
Nevion's solution is more than just the equipment and software, it also includes experience and know-how – design, architecting and professional services – which ultimately made the biggest difference - BaM™ Product Highlight: Nevion Click To Tweet
Search For More Content