Dell EMC's storage portfolio supports end-to-end media workflows, from all-flash nodes for content creation and hybrid nodes for media asset management, to archive nodes for affordable long-term storage.
The company's latest generation (GEN3) of ECS object storage, the EX3000, extends this portfolio with a highly scalable, flexible object storage solution, perfectly suited for active archives and global collaboration.
Media companies need both the economics of long-term retention and fast access to content archives. The ECS EX3000 solution enables content owners to boost productivity by turning their archives into rapid-access active archives, where content production teams have on-demand access for retrieving large files, while providing the business with a lower total cost of ownership than public cloud offerings.
The ECS EX3000 solution from @DellEMC enables content owners to boost productivity by turning their archives into rapid-access active archives - BaM™ Product Highlight: DELL EMC Click To Tweet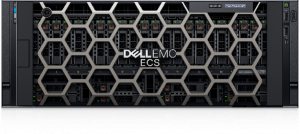 The EX3000 offers more than just active archive capabilities. As the consumer demand for valuable and compelling digital media increases, and billions of new dollars are being spent on film and television productions, global productions increasingly involve multisite collaboration to focus on different animation and visual effects capabilities. The EX3000 platform's Active-Active geo-replication provides an ideal multisite content repository to accelerate artist and production team collaboration, with the added benefit of offering backup and disaster recovery capabilities.
In addition, the ECS EX3000 is an ideal platform for leveraging modern applications such as machine learning and artificial intelligence. With all of your content in a multisite active archive, your assets can be quickly extracted and, through the power of artificial intelligence solutions, audio, facial and object images can be identified and metadata automatically created to gain actionable insights so you can unlock the hidden value in your media archives.
Use Cases:
Monetization of archived content
Active archive offering high capacity and fast retrieval, without data access, midgress or egress costs
Apply machine learning applications to create searchable metadata for the entire archive
Global collaboration
Up to 48 percent lower TCO than public cloud
Integrates into organization's existing security, identity and network management tools
Active-Active geo-replication provides seamless collaboration for creative teams around the globe
WAN-optimized fully geo-distributed high availability and access protection
Comprehensive multi-protocol support enables a wide variety of devices and services from a single data platform
Back up and disaster recovery
No data access or egress costs
Active-Active geo-replication provides globally distributed resilient infrastructure without excessive architectural complexity
Technical Specifications:
EX3000
High-density hot-disk-swappable object storage that packs up to 8.6 PB per rack and can expand into Exabyte scale with improved flexibility. This is a platform for large, long-term archives, storage consolidation and multi-purpose object storage systems that spans S3, HDFS and archive workloads.
Key Features:
Single and double node configurations enable a range of performance characteristics
Hyper-converged nodes for higher density with up to 8.6 PB per rack
30 to 90 drives per node, with up to 12TB disks available
Drawer accessible, hot-pluggable drives
//php echo do_shortcode('[tag_groups_cloud append= ({count}) collapsible=1 groups_post_id=0 tags_post_id=0 hide_empty_tabs=1 hide_empty=1 separator= | link_target="_blank" show_not_assigned=1 not_assigned_name=Tags div_class="custom-tagGroups-for-post-page"]'); ?>
Search For More Content
//php echo do_shortcode('[contextly_main_module]'); ?>