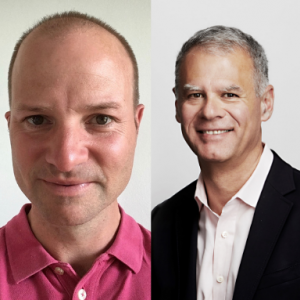 We spoke with Plume's Director of Product Marketing, Mark Goodburn, about this innovative young company and its mission to transform broadband suppliers' offerings through a revolutionary new bundle of Smart Home Services delivered through a Consumer Experience Management (CEM) Platform. We have also included quotes taken from an interview between Plume CEO and Co-Founder, Fahri Diner with Wi-Fi NOW's Claus Hetting in June this year.
"More and more people are relying on more and more devices connected to the internet," says Mark Goodburn, "and that has skyrocketed since the COVID-19 pandemic began. Even as lockdowns start to ease around the world, Plume data shows that home device usage remains much higher than pre-COVID levels. In some geographic locations we've seen an increase in home network usage during the day of over 120%. And with corporate leaders such as Amazon, Google, and Spotify announcing permanent or extended work-from-home arrangements, the baseline is set for a new hyper-connected future."
Competitive advantage
But the broadband that delivers this connectivity to the home is fast becoming a commodity – the only differentiation is price. "The traditional bundles that broadband providers offer the consumer are slowly dying," said Fahri Diner. "It used to be triple-play – voice, video, and data. But the modern consumer is not looking for a landline or 200 linear TV channels that they don't watch. They can get what they do want to watch via an internet application. Today they just need broadband internet – that's the key thing they are looking for. But for service providers, as their triple play customers turn into single play broadband customers, the differentiation –bigger, faster pipes – is only price now." And that means a slowly but constantly reducing ARPU (Average Revenue Per User) – not an attractive proposition for any business.
This is where Plume comes in. "ISPs need a new set of services to grow their ARPU," Fahri Diner continued. "Plume is betting on this new bundle in a big way – and the new bundle is the smart home. Broadband providers need to stop selling broadband, which is merely the connection of the smart home to the outside world. What they need to offer is a new 'Experience Bundle' – which can be 10, 20 or 30+ services and growing. This can be broadly split into four categories:
1. Adaptive WiFi and advanced controls –it's not just mesh/extenders, but dynamic, pre-emptive, adaptive wi-fi. You need a lot of control – both access and parental.
2. Security, safety, and privacy. Security is cyber protection for IoT and connected devices, safety addresses things like cameras and recognition, and privacy speaks for itself.
3. Automation and personalization – my home needs to be programmed to my behavior and requirements.
4. Energy management and independence – a key consideration for the young digital natives.
"Plume has solutions across all of these; the new frontier is providing experiences – the ISP becomes an 'Experience Service Provider'," Fahri Diner explained. And some very familiar names agree – current Plume customers include Liberty Global, Virgin Media, Comcast, and Charter Communications in the US. Sky Italia has also just announced a managed WiFi service underpinned by Plume.
"Plume offers a revolutionary bundle of Smart Home Services that is built on the foundation of providing flawless home WiFi –including AI-enhanced cybersecurity, advanced user controls, motion awareness, with more to follow," adds Mark Goodburn. "All services are controlled by the user via the Plume App. The platform ensures that other services can be readily added in the future.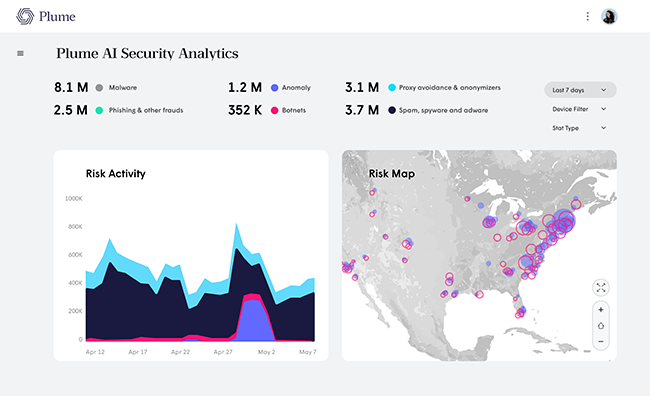 "The key thing is that it is an intelligent, managed SaaS offering, not a collection of boxes," adds Mark Goodburn. "Plume is not a supplier of hardware; Plume does provide exceptional designs for WiFi access points (pods) that can be licensed by OEM/ODMs, however, our CEM Platform works together with open-source software called OpenSync that can be freely integrated into any CPE device. OpenSync facilitates sophisticated cloud management, and leverages AI to handle – among many things –intelligent control of the smart home."
"To be able to scale, you must decouple the services from the hardware. This requires an open source approach," Fahri Diner added. "OpenSync is the fastest-growing open source initiative for the smart home. It's a kind of 'SIM card' that talks to everyone's cloud – where all these services are created, provisioned, maintained and supported. We created OpenSync two years ago and it's on fire! OpenSync is the device-level framework and software – the other part is the cloud, the control plane. The objective of the OpenSync project is to remove a major obstacle to the rapid deployment and scalability of services which is disparate software present in different hardware brands."
How are ISPs responding to the Plume proposition?
"Very positively," says Fahri Diner. "They want to be able to offer the new services to their whole customer base rather than just a small percentage that has the right 'box', and Plume makes this possible. It also unshackles ISPs from the box vendors, and because OpenSync is open source, they don't just swap one dependency for another – they're not beholden to Plume. This is accelerating the pace of deployment – there are approaching 1 billion devices supported by the Plume cloud now."
The Plume offer
"Plume provides a number of services as part of the new bundle, turning an ISP into an 'Experiences Service Provider,'" Mark Goodburn explains. "For example, Plume Adaptive WiFi intelligently adapts by using AI technology to analyze the home environment and device usage patterns to deliver the best possible Quality of Experience (QoE) for each device, reducing service calls. Better wireless connectivity is enabled via our intelligent, Adaptive WiFi service which requires licensed WiFi access points to be placed in the home, or by integrating any device-makers' CPE (customer premises equipment) hardware with OpenSync. Plume automatically prioritizes certain higher-bandwidth applications (i.e. Zoom calls, 4K video streaming, gaming traffic) that can be susceptible to drop-outs due to bandwidth restrictions, latency etc.
"Plume also proactively resolves issues – for example, dynamically switching channels if a neighbor's WiFi interferes. And it offers movement detection via Plume Motion, which is great for monitoring elderly relatives or ensuring the kids come home after school.
"It also gives granular visibility of all connections and opportunities to enhance WiFi signal reception via sophisticated built-in monitoring," Mark Goodburn adds. "For the ISP, it enables much faster and more accurate customer service, reducing load on support departments while giving greater subscriber satisfaction and reducing churn. And of course, the OpenSync middleware is open source, so ISPs can build their own services on top of the core Plume offering."
What's next?
"We are the Experience Service Provider behind ISPs," said Diner. "Beyond what the consumer sees, you also need to provide capability to the service provider so they can support, manage, maintain, upgrade and fix these services. This is enabled by a massive amount of data; as well as driving personalization etc., it also feeds the support and IT system. So everyone is looking across and understanding the dependencies. So we provide an amazing tier 1, tier 2 support capability proactively.
"I want to eliminate the concept of 'call in rates' which ISPs have been relying on. With our tools behind them they should be able to have a 'call out center' –proactive, pre-emptive – the network knows if something is going wrong. The winners and losers are separated by the ability to learn from and leverage data for a competitive advantage."
Search For More Content