The IABM theaters – go beyond IP
This article originally appeared in the IABM Journal, issue 105 which is available to view online here
Written by IABM CTO Stan Moote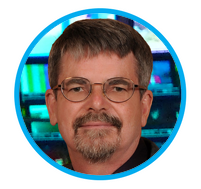 This whole transition to IP had the industry on pause. Many expansion plans, technology refreshes and budgets were postponed, suspended or put in a 'wait and see' holding pattern. Not only was this dreadful for IABM members' top line, it also hurt the industry as a whole by permitting competitors to come in and steal eye-balls from long-established facilities.
IABM decided to take on a mandate to help get things back on track through educating the industry on the realities of real-time video and audio over IP at major trade events and online. "The fear of the unknown about real-time video over IP, cyber- security and the survival of SDI put the industry on- hold. To dispel this apprehension, we started up IABM Theaters – they are all about education for all levels of individuals across vendors, installation experts and strategy professionals," says Peter White, IABM CEO.
Starting out at the NAB Show 2017, in conjunction with the IP Showcase, the IABM theater played to standing-room-only show attendees and covered the foundations of real-time IP, details about the SMPTE ST 2110 Professional Media Over Managed IP Networks suite of standards along with the practical benefits, challenges and details of how SDI actually fits within the current and future scope of the business.
Presentations on IP continued at BroadcastAsia 2017, specifically tailored for the APAC area. With IBC 2017 as the next major event, the IBC execs provided a great conference room location for the IABM Theater and the IP Showcase demos.
Additionally IBC marketed this as a key event including posting the presentation schedule online and on the IBC app. So what was the interest level like? I typically open the theater with a presentation called 'What is IP Showcase all about?'. Starting only 30 minutes after IBC opened its doors, the theater area was overflowing into the hallway, waiting for the sessions to start. It was clear attendees wanted to know the real story about IP.
IABM curated short, concise, non-commercial sessions to arm IBC attendees with the enthusiasm to jump into IP. Each presentation ran for 20 minutes and they were grouped into tracks to match different skill levels and professional positions, assuring each and every attendee received an appropriate glimpse, detail or report on actual current use cases that are installed and up and running.
The theater was so successful at IBC that SMPTE asked IABM to do a mini-version for their ATC conference held in Hollywood. For the NAB Show 2018, NAB provided a great location on the exhibition floor along with significant marketing of the presentation schedule so show attendees could see the sessions of interest to them. Our presentation selection committee was so overwhelmed with submissions that we didn't have enough presentation slots to accommodate everyone. Since I have the opportunity to be heavily involved with vendors, system integrators and end-users, we could see some subject gaps in the sessions, so I asked people like Thomas Edwards from Fox and Merrick Ackermans, chair of the ST 2110 working group, to kick-in to round out the program.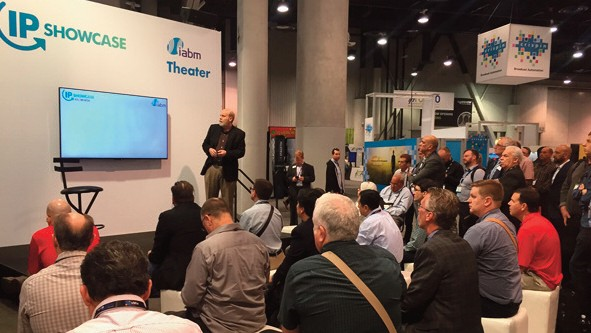 We also decided to switch it up a little at NAB Show 2018 by adding in some panels. This provided a chance for the attendees to ask some questions and get views between suppliers and end-users. The well-trained panel moderators kept the topics flowing to assure much ground was covered with each industry expert in the allotted time. Over 50 speakers and panellists talked at the IABM Theater, and all kindly made themselves available to answer one-on-one questions after their sessions. All the presentations were shot and produced with the IP Showcase real-time studio on the exhibit floor and are available on-line thanks to IABM-TV for the whole industry to see. They were also live streamed for those who couldn't attend the NAB Show.
So what is on the horizon for the IABM Theater beyond IP? IP is a very important aspect of the industry, but there are also many other topics that are affecting the industry. It is one thing to discuss and predict the unknown future of media, however IABM members have knowledge and tools available today that will help our colleagues dovetail tomorrow's media into their day-to-day projects and workflows. To this end, we went out to IABM members to speak at the IABM Theater during BroadcastAsia 2018. Again, we were over- subscribed with member submissions.
On the exhibition floor at Suntec we are calling the sessions 'Tomorrow's Media Tool Box – Today' and covering topics from Blockchain to Artificial Intelligence to Real-time IP.
IABM is fortunate to have Matthew Goldman, who is the President of SMPTE and Senior Vice President of Technology at Ericsson Media Solutions, present at BroadcastAsia 'Broadcaster Migration to All-IP – the tools are here now!' Mr. Goldman will discuss the benefits of transforming to 'All-IP' and give a high-level overview of what exactly is meant by 'All-IP' including details about the new SMPTE ST 2110 suite of standards for Professional Media over IP. Marc Segar from NEP Australia details out NEP's implementations in the real world with four new all-IP broadcast trucks, seven upgraded existing trucks, and two new IP production centers, all connected in real-time to 29 tier one sports arenas.
Blockchain technology isn't only about currency, and there is lots of anxiety how it will affect our industry. Petr Peterka, CTO at Verimatrix, keeps everyone on top of blockchain capabilities by presenting 'Streamlining Content Distribution with Blockchain' so attendees can understand the tools and be prepared for the future.
Hans Massart from Newtec will explain how to achieve high network and service availability to cover live news events. James Gilbert from Pixel Power shows you how to deploy an automated workflow system, across all your playout platforms.
OTA is a topic largely gone from many forums. Nevertheless OTA is still a primary method of distribution and our theater selection committee knows that to keep RF distribution strong, scrutinizing digital feeds for quality is tremendously important. GatesAir and Qligent get together to discuss 'Transformative Monitoring Strategies for Next-Gen OTA Networks.'
For advertisers, is 2018 the year for OTT digital advertising? Greg Armshaw from Brightcove reviews the toolsets available to launch, manage and monetise OTT services.
Artificial Intelligence (AI) and Machine Learning (ML) are not going away, so the real question that comes up is how to understand the toolsets and employ them suitably to match your business and technical needs. Tommaso Cesano, Head of Business Development and Strategy at start-up Metaliquid, introduces how AI video analysis can support broadcasters and media companies. This ties directly into how AI and ML can leverage object based storage detailed out by Dell EMC's presentation Uncovering Object Platform for The Modern Media Archives.
IABM members have so many tools available to accelerate the industry to new heights. Through the IABM theaters, we are endeavouring to get these new technologies messages out to help professionals understand and embrace change by providing venues for non-commercial, informative presentations.
Furthermore, we tailor short educational content with a local regional flavor towards attendees without competing with the trade show conference sessions. No question that industry professionals are anxious to get on with business growth plans and the IABM Theaters are helping them to define their future direction.
Find out more about the IABM Theaters by clicking here.
Search For More Content