This article has been taken from the IABM Journal Issue 108. To see the full Journal click here.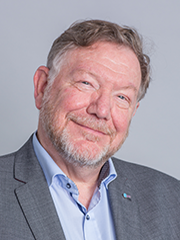 Peter White, CEO of IABM
More knowledge, more services and more support for member companies
I don't have to tell you that our industry continues to
change at breakneck speed, and IABM is determined to
continue to deliver up-to-the-minute, appropriate and
actionable business information, support and services
to help all our members navigate that change
successfully.
With that in mind, we have launched a number of new
initiatives this year – in addition to continuing to deliver
the full range of services and support members already
receive. Here's a run-down of the new services and
support members can expect from their association in
2019:
Personalizing IABM for members
IABM represents around 550 member companies. While every company is unique, a recently completed research project identified eight top-level member 'types', each with broadly common requirements and priorities. During 2019, we are creating tailored offerings to more precisely match the differing needs of each group. The result will be a more personalized and focused range of services for all IABM member companies.
In addition, we are organizing the new, geo-cloned executive summit series and promoting more engagement via the regional Members' Councils – taking IABM on the road to further internationalize our offering.
Delivering more world-class business intelligence
Already the go-to source for authoritative, actionable industry information and strategic intelligence, in 2019 IABM's Business Intelligence Unit is digging deeper, spreading further and reporting smarter. This is possible thanks to the addition of two new research
Fostering buyer/supplier collaboration
IABM is uniquely placed to provide platforms for
dialogue and collaboration between buyers and
sellers of broadcast and media technology. In
2019, we are launching Industry Advisory Boards
(IABs) in APAC, Americas and EMEA to
complement the UK IAB which was launched in
2018. There is also a series of Meet the Buyer
events planned throughout the year in various
territories to further promote the exchange of
knowledge in a cooperative, non-commercial
environment.
Driving industry collaboration
Believing that together, we're stronger, in 2019
IABM is actively building synergistic relationships
with other complementary organizations in the
broadcast and media space for the betterment of
the industry. Sharing knowledge, best practice and
platforms, this initiative will foster collaboration
and provide the industry with a stronger voice.
Creating new learning opportunities
The Future Trends Theatre at IBC 2018, curated
by IABM, proved that there is a real thirst for
knowledge and understanding about what's
coming next – and afterwards – as new
technologies and business models arrive at an
ever-increasing rate. In 2019, we are taking this
'futures' concept forward to other shows and
events around the world.
Becoming the leading provider of CPD
The Knowledge Vault on the IABM website is jam-packed
with business-enhancing content. In 2019, we are further
developing this to aggregate all educational content. It will
include a training portal that brings together in one place
all relevant industry courses from all providers, making it
an easily searchable, go-to resource for everyone. We are
also creating more online e-learning courses, delivering
3rd party-supplied training and proactively engaging with
more universities to attract more young talent into the
industry.
Leveraging the BaM Content Chain® across the industry
Introduced mid-2018, IABM's BaM
Content Chain® has been universally
welcomed as the definitive model of the
structure and working of the broadcast
and media industry today. In 2019, we
are working with organizations around
the world to roll out the BaM Content
Chain® model to provide a universally
understood and accepted reference
framework against which companies
can benchmark their operations and
organize their offerings. We are also
further developing the BaM Shop
Window™ to make it easy for buyers of
media technology to find the products
and services they require, using the
same reference structure.
In conclusion
This ambitious plan reflects our
commitment to providing members
with ever more knowledge, support and
services to help them do better
business in this period of
unprecedented transformation in
broadcast and media. IABM
membership is already a 'no-brainer'
for most companies operating in this
space. These initiatives will further
broaden our offer, making IABM
membership essential to every
company in the industry. As I said
earlier, we're stronger together and I'm
looking forward to working closely with
all our members to help you achieve
your objectives this year.
Search For More Content