This article has been taken from issue 107 of the IABM Journal. The full Journal can be accessed here.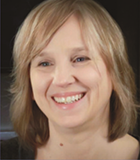 Terri Morgan
Co-founder, Luma Touch
We spoke to Terri Morgan, co-founder of Luma Touch, about what is driving this dynamic young company's success and where it's going next.
Tell us a little about the history of Luma Touch – when it was formed, why and by whom. Please also explain the connection with Pinnacle in your early days.
Luma Touch was founded in 2012 by Chris Demiris and Terri Morgan.
Terri comes from the video editing side. She started editing in Seattle in 1988 for a local post production facility, Alpha Cine. After 7 years at Alpha Cine, she began focusing on a combination of testing, product management and design for some of the most innovative companies in non-linear editing at the time, such as Lightworks, Fast Multi-Media, Pinnacle Systems and finally Avid. It was her tenure at Avid, where she was a Principal Designer and Product Manager for Avid Studio for iPad (which eventually became Pinnacle Studio for iPad when it was sold to Corel), where the true roots of Luma Touch were formed; it was at Avid where she met Chris Demiris, her co-founder and lead engineer at Luma Touch.
Chris has deep experience creating and integrating numerous technologies and products for 3D motion graphics, GPU video processing, and digital-rights-management. He had previously co-founded Hollywood FX in Utah 1993, a 3D video motion graphics product. He sold Hollywood FX to Pinnacle Systems in 1999. Chris continued working with the Pinnacle Systems team until it was eventually purchased by Avid, where he stayed to become the lead developer for what was then Avid Studio for iPad.
When Avid sold the consumer team to Corel in 2012, including the iPad product, (which was re-named to Pinnacle Studio for iOS), Chris and Terri licensed from Corel the development and support of the product for 3 years. While it was a great product for its time, Apple had new technologies to take advantage of, so they started to build LumaFX and then LumaFusion under the LumaTouch brand.
Today Luma Touch is a small but mighty team of six, with talents ranging from engineering, design, to professional video editing. We're all dedicated to the development and support of creating exceptional creative media software for iOS.
Luma Touch is currently co-headquartered in Salt Lake City, Utah and Seattle, Washington.
Is there a story behind your company's name?
The name Luma Touch came to us because it embodied the experience we were creating for content creators. There's also a simplicity to the name that we felt was also reflected in the experiences we were creating.
But to break it down a bit further, Luma, comes from the word luminance, which describes the intensity of light of a color, and is an important component in video. Since we're focused on the touch interface of iPhones and iPads 'Touch' was an obvious choice.
The name resonated so well that it eventually found its way into our products, LumaFX and LumaFusion. LumaFX's explains the app's ability to add special effects to clips. LumaFusion's name is derived from the idea of fusing layers of video, audio, and effects together to create a story.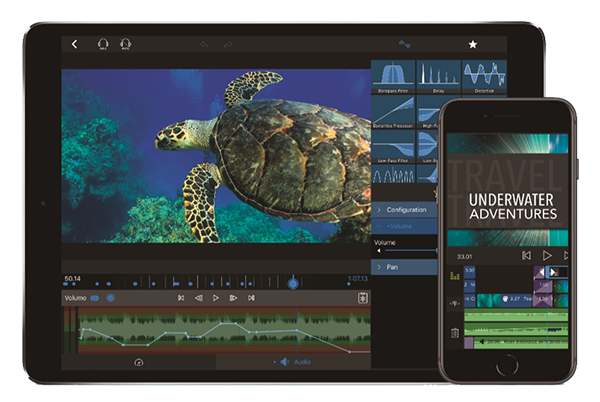 You're a young company. What have been the biggest challenges – and perhaps unexpected opportunities – in getting to where you are today?
Certainly as a young company, especially one that's crossing a threshold of an entirely new era of filmmaking, you're bound to face new challenges. Consequently, one of the biggest challenges we face with LumaFusion is that we are influencing perception: perception of what storytelling should be vs what it can be. Add to that, we're telling content creators that they can elevate their editing experiences – and on mobile devices!
With LumaFusion, we're pushing boundaries and changing what people can expect from their mobile devices. Our customers are pleasantly surprised when they see everything LumaFusion can do. And when professional editors – perhaps our toughest audience –sit down in front of LumaFusion and start to edit, they see the power, liberation from their desktop, and joy they can get from mobile editing. Once they use LumaFusion, they become evangelists for the App and because of that we have a growing community of editors who make tutorials, reviews and other content not only using the App, but also in support of the App. And that, which started for us as a challenge, has become our biggest opportunity.
Can LumaFX be integrated with LumaFusion or are they aimed at different types of users?
LumaFX is the effects engine for LumaFusion. If you double tap on any clip in the LumaFusion timeline, you'll see the familiar LumaFX interface.
Would a news editor brought up on, say, one of the established desktop, distributed editing systems find any limitations with, or difficulty adopting, LumaFusion? Do you have any customer testimonials to illuminate this?
Actually, it's the traditional editors – those who have worked with all of the platforms over the years – who are the most pleasantly surprised at how fully-featured LumaFusion is. We've also worked closely with the mobile journalism community since before the app was released, and consequently many of the features we have today have been developed after listening to challenges these journalists were facing.
There are so many journalists doing amazing work on LumaFusion. For example, journalists like Phillip Bromwell from RTÉ News consistently create beautifully crafted, original news segments for broadcast using LumaFusion. There are also journalists like Bjorn Staschen, head of NDR NextNewsLab, doing fantastic work with LumaFusion, as well as journalists at RTV in Rotterdam. And one of the most stunning independent journalistic projects I've ever seen (in or out of the mobile world), is the Ephemera Documentary, edited in the field on LumaFusion by Angelo Chiacchio. With just the gear he can carry in his small pack he invites us into the lives of people living in the most remote communities and environments on earth. This is an example of a project that would be difficult or impossible if he needed to bring a larger computer along for editing. www.youtube.com/c/EphemeraDocumentary
What extra benefits would news editors expect by adding LumaFusion to their mobile news efforts?
In order for mobile to be taken seriously by stations, it's important that the mobile apps that journalists choose don't dumb down editing to the point where they're forced back to the desktop for anything that needs a little finessing. Choosing tools that can't do the job when necessary means there always needs to be a backup plan, and the backup plan can quickly evolve into a much used part of the process again. And when that happens, the journalistic process doesn't get simplified, but rather more complicated by adding mobile as yet another process to deal with.
Luma Touch takes editing seriously, and while creating LumaFusion, we've been listening to the journalist community and making features that make it possible to edit and deliver a story from the field. Full stop. Here's some examples.
LumaFusion allows journalists to separate their stereo audio channels onto two mono channels so they can edit the sound for each channel independently while still maintaining a centered mix.
And because it's important to have brand consistency across segments edited by different journalists, LumaFusion has the ability to create custom titles, import fonts, import station graphics as part of the title, and share title presets with colleagues to allow for consistent branding. LumaFusion even allows a zip file containing all of these elements to be imported and shared between journalists so the whole pool of journalists can create identically branded segments from the field.
LumaFusion allows recording of voice overs, but also has a track mixer, audio levels per clip, and the ability to quickly edit the voice over track with simple-to-use gestures.
LumaFusion integrates with Western Digital My Passport Wireless Drives, and GNARBOX drives so not only can media be dragged straight from the drives (which show up in the LumaFusion Library) to the LumaFusion timeline, but also projects and finished segments can be backed up off of the mobile device, for safety and for space management. All without an internet connection. This also means that if there are two journalists in the field and one is shooting with a traditional camera, the SD card from the traditional shooter can be ingested into the WD or GNARBOX drive without disrupting the mobile journalist who is either busy shooting or editing – and the media becomes available instantly to the mobile journalist for editing.
LumaFusion handles 4K media even easier than a desktop editor and all titles, color correction and effects are real-time. So journalists will find editing to be smooth and uncomplicated by delays or long render times.
What's next for Luma Touch?
We are currently working on LumaFusion 1.8. In it will feature our Pro I/O pack which will include external monitor support, batch export, and .xml project export, and host of new editing features. XML in particular has been a feature that has been requested by customers frequently. It will allow them to export XML files to FCPX if they want to finish a project on the desktop. We are currently testing XML internally and polishing the feature to make sure it's the best it can be before launching.
You recently joined IABM. What are the most valuable member benefits to Luma Touch and how do you see them helping you grow and develop your business?
For Luma Touch, our connection to, and relationships with, the global community of filmmakers and content creators is paramount to us. We are excited to be a part of IABM as it represents a significant opportunity to better connect with this community. The IABM presents a wealth of knowledge and resources, as well as significant opportunities to connect with new and existing customers at the numerous events and trade shows worldwide. As we continue to grow as a company, and expand our efforts to support the professional editing, filmmaking and broadcast news market with newer, more advanced mobile editing solutions, our partnership with the IABM will be invaluable.
//php echo do_shortcode('[tag_groups_cloud append= ({count}) collapsible=1 groups_post_id=0 tags_post_id=0 hide_empty_tabs=1 hide_empty=1 separator= | link_target="_blank" show_not_assigned=1 not_assigned_name=Tags div_class="custom-tagGroups-for-post-page"]'); ?>
Search For More Content
//php echo do_shortcode('[contextly_main_module]'); ?>