3-days virtual conference for media-IT professionals
Wed 13, 01 2021
We, x-dream-group, are excited to announce that we will host our first virtual conference for media-IT professional with our trusted vendor partners from 26-28 January 2021. For three days we will stream for you from our Munich studio as well as from the (home) offices of our partners on a specially designed website – https://x-dream.events.
During our interactive event you will have the possibility to listen to live interviews and online panel discussions, connect in personal meetings, get product insights in demos, or engage in live-time networking and Q&A sessions. Our event covers everything we like and value about offline trade shows and offers even more flexibility and possibilities in a user-friendly and safe virtual space.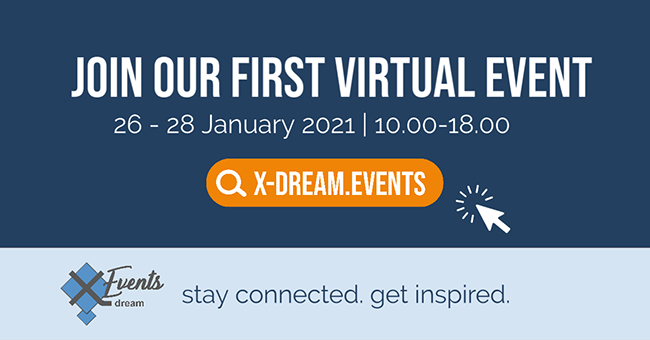 From 10.00-18.00 we will cover production, management, and delivery stages of the media-IT. To give you the understanding of the topics here are some of them: «Remote ingest workflows – 7 things to consider», «Paying for transcoding? The added value of enterprise software», «Well-structured media archives – 5 use cases», «Asset aggregation for OTT publishing – a guide to a successful solution» and much more.
Jutta Schönhaar, x-dream-distributions' Managing Director said: «We are all still experiencing the pandemic and its impact on our communication and opportunity to meet in person or at international shows around the globe. However, we can keep in touch and share our knowledge with each other virtually. That is why we launch this conference and the x-dream.events web-site. We will be happy to meet you there in less than two weeks! »
A full program and a registration form you can find on https://x-dream.events
Please join us online any time on 26-28 January 2021 from 10.00 to 18.00 CET.
About x-dream-group
x-dream-group is the composite of x-dream-media, a European-wide acting software integrator, which is fully committed to the media IT and x-dream-distribution, a wholesale trader that distributes a rich portfolio of well-selected media software products and vendors in EMEA.
About x-dream-distribution GmbH
x-dream-distribution GmbH is an internationally operating company selling software products to the broadcast industry. We work closely with trusted vendor partners from all over the world and Europe-based channel partners. The mission of x-dream-distribution is to bring interesting, innovative and well-developed products to the market and build up strong sales channels for those vendors. We also offer the best solution for our customer's needs. Our vision is to cover all relevant building blocks of the broadcast industry´s end-to-end file and stream-based workflows.
Related Content
Based on your recent activity and preferences we recommend the following pieces of content