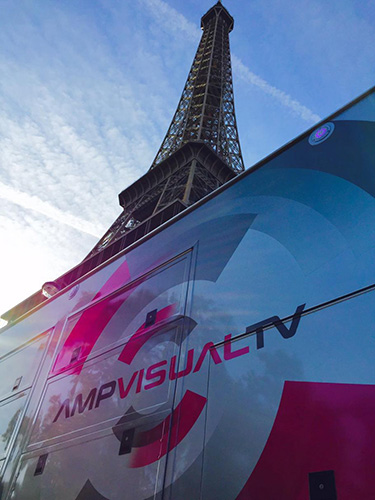 AMP VISUAL TV, the leading broadcast service provider headquartered in France, has completed a major upgrade of its live production infrastructure with the latest LiveCeption Signature solution by EVS.
As part of the EVS solution, a dozen XT-VIA servers have been acquired for deployment across AMP's fleet of 30+ OB trucks for premium sports productions and in its 20+ connected studio facilities where some of the most popular entertainment shows in France are produced.
In addition to the servers, AMP VISUAL TV has acquired 24 LSM-VIA remote control units allowing operators to access the content from the XT-VIA servers and create instant replays and highlights of the highest production standard.
François Valadoux, Executive Vice President, CTO of AMP VISUAL TV, commented: "EVS' XT-VIA servers are a reference in the marketplace for high-profile events and as a result, are required by many of our customers. The new LSM-VIA replay systems are also fast becoming the new standard for primetime sports productions, so it was essential for us to invest in these latest technologies."
Built on EVS' innovative VIA platform of modular services and workflow engines, the new solution provides AMP VISUAL TV with the highest level of flexibility and scalability to respond to any future requirement, including the possibility to roll out workflows for remote production when needed.
Moreover, the XT-VIA servers – which offer interchangeable SDI/IP connectivity and support for all the latest formats and codecs – can conveniently be used across AMP's entire fleet of OBs as well as its numerous studios, providing the same reliable EVS solution for all sports and entertainment productions. And since they are highly robust and easily deployable, AMP can easily move the servers around from one environment to another upon customer demand, without having to worry about damage or reconfiguration issues.
As for the new LSM-VIA systems, operators will use them to create replays and highlights in the most efficient way, benefitting from advanced functionalities and a rich feature set all presented in a familiar layout for instant usability.
"We are delighted our long-standing customer AMP VISUAL TV has chosen EVS for this upgrade as it reinforces our reputation of being the technology provider of choice for their high-end live productions," said Nicolas Bourdon, Chief Marketing Officer at EVS. "Thanks to the modularity of our VIA technology, it will be much easier for AMP VISUAL TV to roll out exciting, new technological innovations and deliver higher value to its customers in the future," he added.
Francois Valadoux said: "Our customers naturally expect us to provide them with the best equipment out there to handle their major TV broadcasts and knowing their productions are run with EVS' no-fail technology and best in class solutions gives us peace of mind."
ABOUT AMP VISUAL TV
As a specialist in TV Coverage, AMP VISUAL TV provides services throughout the production process for live programmes and those produced under live conditions. It has at its disposal one of the most extensive European fleets of OB vans for filming on location, and around forty studios in the Paris region. More than 380 employees assist our clients in devising, designing and carrying out filming, transmission and broadcasting of programmes destined for every screen format. Armed with its indisputable 30-year experience in television filming, AMP VISUAL TV has always strived to guide its clients in technological developments. Today, we master all the stages involved in producing programmes that meet consumers' expectations.
About EVS
We create return on emotion
Globally recognized as the leader in live video technology for broadcast and new media productions, our passion and purpose are to help our customers craft compelling stories that trigger the highest return on emotion. Our comprehensive range of solutions enables media companies and content creators to deliver the most gripping live sports images, buzzing entertainment shows and breaking news content to billions of viewers every day – and in real-time.
The company is headquartered in Belgium with offices in Europe, the Middle East, Asia and North America, and provides sales and technical support to more than 100 countries. EVS is a public company traded on Euronext Brussels: EVS, ISIN: BE0003820371.
Search For More Content