Beaverton, Oregon, USA – February 7, 2020 – Apantac, an internationally recognized manufacturer of multiviewers, video walls, extension and signal processing solutions announces the debut of its 8K Multiviewer at ISE 2020 on stand 10.S120.
Model: MiniDE-4-QUHD accepts 4x HDMI 2.0 inputs and 4x HDMI 2.0 outputs up to 4K @60. It performs in two modes: Multiviewer mode and Video Wall Processor mode.
In Multiviewer mode, users can feed a quad UHD (four 4K inputs) 8K monitor or a 2×2 4K monitor stack. The position, size and aspect ratio of the source windows are user adjustable.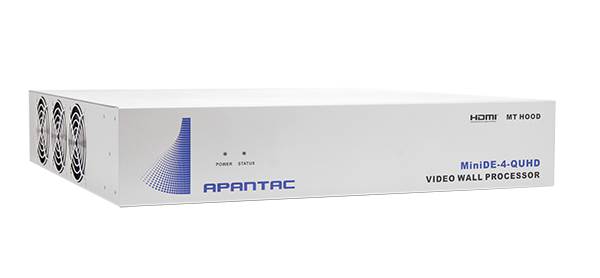 In Video Wall Processor mode, the MiniDE-4-QUHD drives four 4K monitors and displays the source signal feeding one of the four inputs in various layouts and arrangements; horizontal 1×4, 1×3, 1×2 or vertical 4×1, 3×1, 2×1, in landscape of portrait mode.
The 7680×4320 output resolution of Apantac 's new 8K Multiviewer at an affordable price-tag rises the bar to the next level for high-end graphic workstations and top notch multiviewer applications.
Visitors to Apantac's ISE 2020 stand 10.S120 will be the first to see the 8K Multiviewer demonstration.
About Apantac LLC
Apantac LLC (www.apantac.com) is a leading designer and developer of high quality and cost effective multiviewers, video walls, matrices, extenders, and signal processing equipment. The Apantac product line has been specifically designed to provide users with flexible and innovative technology solutions for the broadcast and ProAV industries.
The Apantac product line includes; Multiviewers, video walls, extenders, switches, splitters, matrices, fiber optic extenders, HDBaseT solutions, as well as various video processors. These products are sold globally through direct selling channels, a growing network of dealers, system integrators, OEM's and various other partners.
Apantac was founded in 2008 and is a privately held company with its headquarters located in Portland, Oregon, USA.
For more information about Apantac's products & services please visit: www.apantac.com. For sales, please visit the website, or email thomas.tang@apantac.com. More information: Facebook, Twitter, and Linkedin.
Search For More Content