Accompanying image shows Arena Television Deputy Director of Operations Daf Rees in the OB17 camera control gallery.
Arena Television, one of Europe's largest independent providers of outside broadcast facilities, has purchased four Leader LV5350 waveform monitors for its new OB17 vehicle which operates from Arena's Redhill Aerodrome headquarters in Surrey. One of Europe's largest and most capable HD trucks, OB17 is a 16.5 metre long 32 tonne articulated vehicle with twin full-length expanding sides.
Primarily operating in HD-SDI SDR and HDR, with Quad HD as an option, OB17 incorporates an IP layer in key areas to add extra flexibility. Onboard features include a 240 square foot production gallery, 16 camera channels, an 80 input Sony vision mixer, a Grass Valley hybrid router with 365 video inputs and 798 video outputs, a monitor wall with up to 180 configurable video preview windows, and a Calrec Artemis Beam audio console.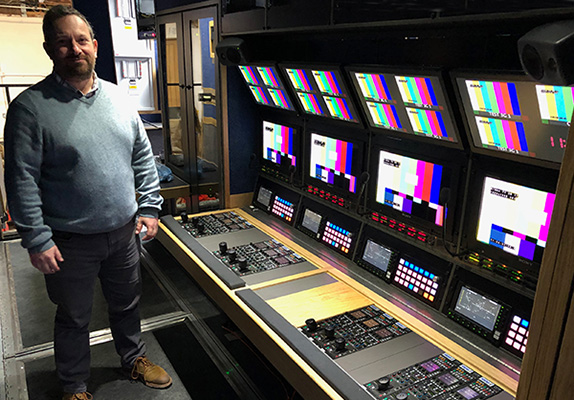 "OB17 is a powerful HD-HDR/SDR truck built for assignments such as light entertainment," says Dafydd (Daf) Rees, Deputy Director of Operations at Arena Television. "Its first job was for ITV's coverage of the Royal Variety Performance last November. HD-SDR is still the dominant production format but we are seeing a steady increase in demand for HD-HDR."
"We chose Leader LV5350 waveform monitors for the shading suite because the support both standards. Their half rack width 3U form factor was also important to us. Having the Leader display directly below the main shading monitor it is an ergonomically efficient way of shading rather than having to look away to a rasterized display on a separate screen. Our production crews find the LV5350 very to use as it provides all the information they need clearly and quickly which is vital when racking a live event. OB17 is also equipped with a PHABRIX Qx rasterizer which is used to analyze outgoing signal flow. The Leader and PHABRIX products complement each other rather than overlap."
"The OB17 project was managed from conception to delivery by Arena's in house project team who were tasked with sourcing all the equipment for the truck. The LV5350s were supplied by Paul Froom at Sentinel Broadcast, sourced from Leader's UK distribution partner Thameside TV."
"HD-HDR looks set to become the preferred production format for many broadcasters as they plan their forward development strategies," adds Leader Europe Managing Director Koichi Fukagawa. "It offers much higher image quality than traditional HD, extending into dark-area detail which would otherwise be obscured. HDR also handles brightly lit subjects with much more convincing realism stand SDR. These advantages greatly enhance TV coverage of live sports and stage events where the range of lighting levels can vary enormously."
"The LV5350 incorporates all the SDI measurement facilities required for HDR both in HD and 4K-UHD," details Leader's European Regional Development Manager Kevin Salvidge. "These include engineering-related features such as test pattern generation, closed caption monitoring, CIE colour chart, high dynamic range measurement, focus assist, customisable screen layout, tally interface, 4K/UHD operation and 12G-SDI interfaces. It also features our intuitive CINEZONE and CINELITE which are especially popular with camera crews, editors and colourists. A focus detection algorithm enables the LV5350 and its equivalent LV7300 rasterizer to sense edges across a very wide range of image contrast levels. Additionally supported by the LV5350 is Sony's 'SR Live for HDR' which allows simultaneous 4K HDR and HD SDR video production."
About Arena Television
Founded in 1995, Arena (www.arena-uhd.com) holds contracts with Britain's major broadcasters to provide coverage of events, music, large studio shows and sport. Key sport contracts include English International Football, the FA Cup, One-day Cricket Internationals, Six Nations Rugby, the Wimbledon Tennis Championships and European Darts. Arena also covers shows as diverse as the Glastonbury music festival, the Royal Variety Performance, Christmas Carols, the Olivier Awards, the Voice and Springwatch. Arena has invested heavily in remote production de-rig and OB solutions, based around Net Insight's Nimbra technology. In addition to its OB and VT truck fleets, Arena operates 12 aircraft including Airbus AS355-NP and Airbus AS355-NP helicopters for the demanding role of aerial filming. Arena was the first to introduce the Shotover F1, the Cineflex HD and the FLIR Ultramedia II camera systems. It also offers a range of solutions for 8K, 6K, 4K and 2K productions.
About Leader Electronics Corporation
Leader Electronics Corporation (www.leader.co.jp/en) has earned a worldwide reputation for designing and manufacturing highly reliable, practical and cost effective test and measurement instruments. Leader products are specified for research, development, broadcast, production and service applications. Manufacturing quality is built in every step of the way. Less than 0.1% of all Leader products made are ever returned for warranty repair or adjustment.
The Leader product range includes award-winning 3G/HD/SD SDI waveform monitors and rasterising test instruments with customisable layout. Among available options are 4K/UHD, CIE colour chart, HDR measurement, test pattern generation, eye and jitter measurement and closed caption display, IP and 12G SDI. Leader has helped many customers manage their transition from analog to digital, from SD to HD, from HD to 4K/UHD, from SDR to HDR and from BT.709 to BT.2020 wide colour gamut. Leader also provides dependable support for the transition from SDI to IP.
Search For More Content