ATG Danmon announces the completion of a full broadcast-quality news studio facility for Cardiff University's School of Journalism, Media and Cultural Studies. The project coincides with a relocation to new city-centre premises situated next to BBC facilities. Cardiff University will use the facility to train the next generation of television, radio, online and printed-media journalists. Herefordshire based CJP Broadcast Service Solutions provided the installation services for the project.
"We were invited to propose a turnkey solution based on an outline specification provided by the university," explains ATG Danmon Managing Director Russell Peirson-Hagger. "The project comprised a large TV studio and dedicated gallery, a smaller TV studio with its associated gallery, plus a broadcast newsroom. Both galleries connect via SDI to Vizrt media, graphics and automation. Avid iNEWS is also integrated."
"The system links to a news presentation suite where a remotely controlled camera and two-way video feed allow the newsreader to talk to a newsroom reporter. The systems simulate the functionality and processes of a real broadcast environment, the output being used for academic review."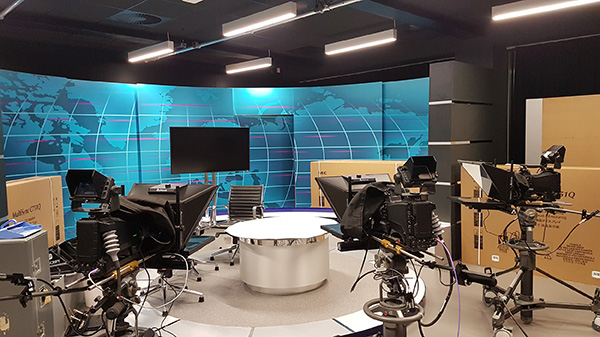 "We worked in partnership with CJP and Cardiff University staff to design and integrate a complete solution that kept within the budget and provided the specified level of functionality that is required by the teaching staff. This was successfully achieved before students returned after the summer recess.
Systems designed and installed for the large studio and gallery include studio lighting under control from a DMX console, gallery furniture, vision and audio monitoring with 55-inch displays, two-way gallery/studio communications, wireless presenter talkback and teleprompt.
The new equipment was integrated with existing elements including dual lighting rails, three studio cameras, Vizrt studio automation, a Ross Video vision mixer (previously supplied by ATG Danmon) and Yamaha audio mixing desk.
The smaller of the two TV studios is a single-camera version of the large studio, with similar infrastructure. ATG Danmon provided and integrated a single-rail light support with cabling, Vizrt Opus compact-control-room automation and a Yamaha audio mixing desk.
For the central apparatus room, ATG Danmon recommended and integrated a Ross Video Ultrix router mainframe, Ross glue, Blackmagic OpenGear analog to SDI conversion and Blackmagic Teranex SD/HD/UHD standards conversion. Two-way camera and control system, broadcast-quality monitors and talkbacks were provided, along with all studio to central apparatus room infrastructure cabling.
Among other specific system components were a Blackmagic URSA Broadcast camera with Fuji lens, Blackmagic multiviewer and studio floor monitors, Shure wireless microphones, Blackmagic HyperDeck video recording, Autoscript WinPlus-IP teleprompting, plus Custom Consoles control desks and monitor mounts.
Training in the operation and maintenance of the systems was provided on completion of the project, which also includes warranty and the option of long-term technical support.
Cardiff School of Journalism, Media and Cultural Studies (www.cardiff.ac.uk/journalism-media-and-culture) (Ysgol Newyddiaduriaeth, y Cyfryngau ac Astudiaethau Diwylliannol, Caerdydd) is Cardiff University's school for training in media. It was founded as the Cardiff Journalism School in 1970 and is the longest established postgraduate centre of journalism education in Europe. The school is considered to be one of the best training centres for journalists and is described as 'the Oxbridge of journalism'. The school is also home to Cardiff University's Centre for Community Journalism which developed the world's first Massive Open Online Course on community journalism.
ATG Danmon (www.atgdanmon.co.uk) part of the Danmon Group (www.danmon.com), has been at the forefront of the transition to the file-based technology now used throughout the industry. It has also assisted many clients in the construction of IT-based automated file workflow systems, high-definition studios, master control rooms and playout facilities, as well as the upgrade of existing SD systems to HD and UHD. By embracing tomorrow's technology, ATG Danmon delivers maximum value through close co-operation with suppliers and customers, leading to mutually beneficial long-term relationships.
ATG Danmon also offers a comprehensive range of products and services including transcoding and automated workflow management, accelerated global file transfer, media workflow-design, project-planning, equipment installation, software-configuration, commissioning, documentation, on-site training plus ongoing support and maintenance.
With offices in Asia, Denmark, Germany, the Middle East, Norway, Portugal, Spain, Sweden and the United Kingdom, the Danmon Group thinks globally and acts locally to support customers with its highly experienced sales and engineering teams.
CJP Broadcast Service Solutions Limited (www.cjp-bss.co.uk) established in 2011 to provide broadcast manufacturers and engineering companies with professional ITIL based service desk solutions. In 2016 CJP Broadcast expanded its portfolio to include digitisation of broadcast tape and film media to provide restoration of historical media into modern file based formats. More recently CJP Broadcast has expanded its operation further, to include professional broadcast system integration and technical support services
Search For More Content