Accompanying image shows Abingdon Green, Westminster, the venue for many television and radio interviews with UK politicians and political commentators.
ATG Danmon announces the completion of upgrades to OB link facilities in the City of Westminster, central London, for one of Europe's leading television news providers. The project centred on new interface portals at Abingdon Green adjacent to the UK Houses of Parliament, and in Downing Street. Abingdon Green is often used by TV and radio reporters as a location for interviews with politicians and political commentators. The Downing Street portal is frequently used by reporters and mobile production crews covering activity outside the residences of the UK prime minister and the chancellor of the exchequer.
"Our role was to modernise the cabling, fibre and connectivity at each portal," says ATG Danmon managing director Russell Peirson-Hagger. "These are used for many Westminster-related broadcasts, both live and recorded, in addition to similar facilities at various other key London locations. They also form part of the wide range of facilities offered to other broadcast and corporate clients."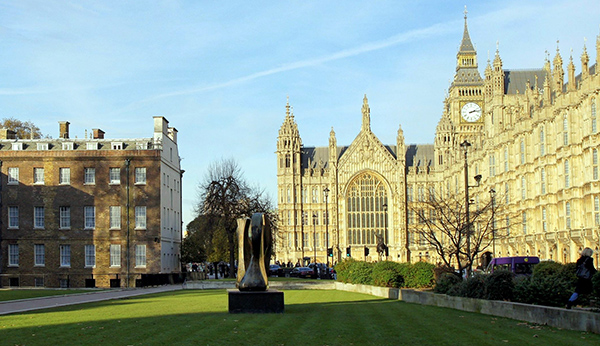 "Both portals are equipped to handle 1920 x 1080p50 Full-HD HD-SDI and IP. They also include high quality multi-channel analogue audio in/outs, genlock reference, IP data, a video return feed, audio talkback and electrical power. Everything is housed in highly robust and fully weatherproof steel cases which are kept locked until actually needed."
"The project is the latest of several commissions we have completed for this client. We were chosen both for our proven experience and because we already had accreditation to work within the Palace of Westminster."
About ATG Danmon
ATG Danmon (www.atgdanmon.co.uk), part of the Danmon Group (www.danmon.com), has been at the forefront of the transition to the file-based technology now used throughout the broadcast media industry. It has also assisted many clients in the construction of IT-based automated file workflow systems, high-definition studios, master control rooms and playout facilities, as well as the upgrade of existing SD systems to HD and UHD.
ATG Danmon also offers a comprehensive range of products and services including transcoding and automated workflow management, accelerated global file transfer, media workflow-design, project-planning, equipment installation, software-configuration, commissioning, documentation and on-site training, plus ongoing support and maintenance.
With offices in Asia, Denmark, Germany, the Middle East, Norway, Portugal, Spain, Sweden and the United Kingdom, the Danmon Group thinks globally and acts locally to support customers with its highly experienced sales and engineering teams.
Search For More Content