London, UK, March 26th, 2019 – ATG Danmon (www.atgdanmon.co.uk) announces the completion of a robotic camera tracking system for the main news studio at the London headquarters of ITN. This centres on the integration of Stype RedSpy optical tracking with ITN's existing Sony cameras and Vizrt's virtual studio graphics. The new system replaces a third-party solution which was nearing the end of its useful life.
"When ITN approached us about their requirement, we discussed this with virtual studio specialist Alex Roriz," says ATG Danmon MD Russell Peirson-Hagger. "Alex is managing director of VanTech, one of our partner companies within the Danmon Group. "He recommended we consider Stype's RedSpy which had been deployed successfully by several broadcasters, notably for their coverage of the 2018 FIFA World Cup. We researched the various options at NAB 2018 and, following further discussions with ITN and demos at IBC 2018, ITN agreed that RedSpy was the best choice."
"We worked with closely with ITN and Stype to ensure full compatibility with the Vizrt graphics processor. The graphics system was upgraded by ITN prior to the RedSpy installation. Being ITN's national news studio it was decided that the deployment should take place over a weekend, starting after the Friday night bulletin and completing no later than the Monday morning bulletin."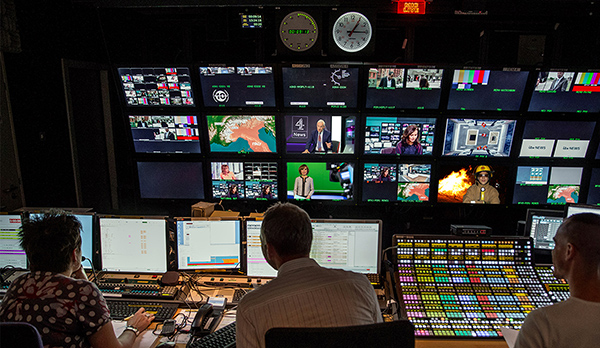 "The RedSpy integration involved mounting infra-red sensor cameras onto five existing ITN camera systems. Installation began with the placing of new markers across the studio and calibration of the two lens types currently in use. Three sensors and processors are connected to cameras and lenses mounted on pedestals. A fourth system is mounted to a camera and lens on a Jimmy Jib and the fifth fixed to a hand-held camera and lens using a Stype-supplied 25 metre fibre cable, with a remote processor."
"Mapping is a vital element of any virtual studio system. This involved moving the camera about in the studio to create a full 3D map of the markers. We then performed final testing of the tracking system and graphics, fine-tuning as the results were evaluated. Finally, Stype provided training."
"The project was completed successfully with the new system on air for the Sunday evening bulletin. The success of the deployment was down to hard work and cooperation between the ITN, ATG Danmon and Stype teams."
ITN (www.itn.co.uk) is an Oscar-nominated production company that has been at the heart of the media landscape for over sixty years, internationally recognised for its quality, integrity and creativity. ITN makes the award-winning daily news programmes for ITV, Channel 4 and Channel 5, providing comprehensive and impartial news to the British public, with an accumulated peak audience of up to 11.4 million people in the UK.
ITN Productions, ITN's independent production company, produces high quality content across seven distinct areas: television production; sports; advertising; industry-specific programming; education content; entertainment and news footage syndication; and post-production.
ATG Danmon, part of the Danmon Group (www.danmon.com), has been at the forefront of the transition to the file-based technology now used throughout the industry. It has also assisted many clients in the construction of IT-based automated file workflow systems, high-definition studios, master control rooms and playout facilities, as well as the upgrade of existing SD systems to HD and UHD. By embracing tomorrow's technology, ATG Danmon delivers maximum value through close co-operation with suppliers and customers, leading to mutually beneficial long-term relationships.
ATG Danmon also offers a comprehensive range of products and services including transcoding and automated workflow management, accelerated global file transfer, media workflow-design, project-planning, equipment installation, software-configuration, commissioning, documentation, on-site training plus ongoing support and maintenance.
With offices in Asia, Denmark, Germany, the Middle East, Norway, Portugal, Spain, Sweden and the United Kingdom, the Danmon Group thinks globally and acts locally to support customers with its highly experienced sales and engineering teams.
Search For More Content