ATG Danmon Upgrades to New HQ
Thu 11, 07 2019
Accompanying photo shows exterior of ATG Danmon's new headquarters.
ATG Danmon (www.atgdanmon.co.uk) announces a major upgrade of its management, operational and engineering facilities with a move to new headquarters.
"This relocation comes at a time of increasing demand for our systems integration and technical support services both in the traditional broadcast market and across the rapidly expanding media sector," says ATG Danmon Managing Director Russell Peirson-Hagger.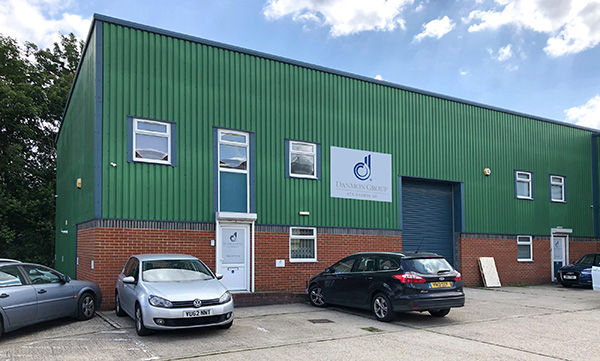 "After 15 years at our former building, we believed it was time to modernise our facilities. This move has proved a great opportunity to achieve exactly that, enabling us to operate more effectively at every level from project planning and design right through to system construction, testing and commissioning. We have completed the transition successfully and without any disruption to our business."
"Our new offices have plenty of on-site parking for customers arriving by car and are within easy walking distance of the Letchworth rail link with London."
ATG Danmon's new address, effective now, is Unit 5, Oakfield Business Corner, Works Road, Letchworth SG6 1FB. Central and direct-dial telephone numbers remain unchanged along with all other contact details.
ABOUT ATG DANMON
ATG Danmon, part of the Danmon Group (www.danmon.com), has been at the forefront of the transition to the file-based technology now used throughout the industry. It has also assisted many clients in the construction of IT-based automated file workflow systems, high-definition studios, master control rooms and playout facilities, as well as the upgrade of existing SD systems to HD and UHD. By embracing tomorrow's technology, ATG Danmon delivers maximum value through close co-operation with suppliers and customers, leading to mutually beneficial long-term relationships.
ATG Danmon also offers a comprehensive range of products and services including transcoding and automated workflow management, accelerated global file transfer, media workflow-design, project-planning, equipment installation, software-configuration, commissioning, documentation, on-site training plus ongoing support and maintenance.
With offices in Asia, Denmark, Germany, the Middle East, Norway, Portugal, Spain, Sweden and the United Kingdom, the Danmon Group thinks globally and acts locally to support customers with its highly experienced sales and engineering teams.
Related Content
Based on your recent activity and preferences we recommend the following pieces of content