The Catalan Parliament has renewed its entire production infrastructure. Most of the previous installation dates back to 2002 and was based on SD technology. In order to ensure greater transparency and to encourage the participation of citizens in the political process, the audio-visual equipment in the plenary hall and the other meeting rooms of the Parliament has been modernised. The new infrastructure allows all speeches by Members of the Parliament to be recorded and transmitted while at the same time generating a uniform audio and television signal of the sessions and events taking place in the Chamber. This content is made available to citizens in the Parliament's own media library as a reliable live streaming service and in on-demand format.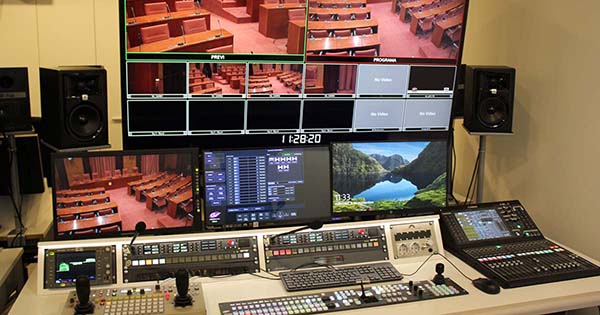 The KSC CORE system from BFE was implemented to control, automate and switch the entire infrastructure. The highly available control and monitoring solution ensures efficient management of resources and signals in the Catalan Parliament. KSC CORE enables deep integration of the new Dante and Mediornet infrastructure. As a result, conference rooms can be flexibly connected to upcoming productions as well as audio and video signals can be automatically bundled into defined programs. Both facilitate the preparation of daily productions and at the same time allow for short-term changes in schedule. It was precisely this flexibility and the scalability of the system that was of particular importance to the Parliament of Catalonia. On the one hand, not only parliamentary sessions are to be recorded, but also other events that regularly take place in the parliament. On the other hand, although usually operated in HD video resolution, the entire infrastructure is designed to be switched to 3G and even to 4K if required.
"We are very grateful for the professional support of our Spanish partner CROSSPOiNT, with their assistance we were able to realize this exciting project for the Parliament of Catalonia," reports Berend Blokzijl, Senior Sales Manager KSC of BFE.
Search For More Content