Bluebell Blue Nano 12G optical converters
Wed 01, 07 2020
Bluebell Opticom, the award-winning technology provider of optical transport solutions continues to develop market-leading products for the media and entertainment industry. Presenting 4K, 12G-SDI, UHD, HDR optical conversion in a small, low mass, super-rugged enclosure. Bluebell's ever-expanding portfolio of rack-mounted optical conversion technology is complimented by this rugged Blue Nano Series converter which provides the same high-quality electrical to optical conversion in a compact stand-alone enclosure.
The Blue Nano Range converts E-O and O-E for video, audio and data signals.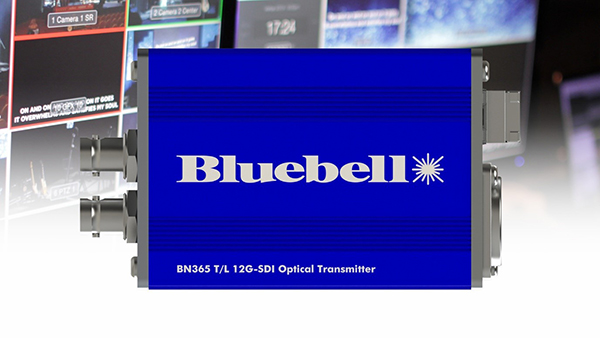 Focusing on 4K UHD, the BN365T auto-senses and converts 12G-SDI, 6G-SDI, 3G-SDI and SD-SDI signals to optical with loop through, and the BN365R converts optical signals to dual BNC outputs.
Power is supplied to the Blue Nano series using an industry standard 4-pin XLR connectors and optical output is via an SFP. This allows interchangeability of the optics and the possibility of using CWDM or DWDM laser SFP modules.
For more information on the BN365T and BN365R or any of our other solutions, please contact your nearest Bluebell dealer.
About Bluebell
Bluebell Opticom designs and manufactures high-quality infrastructure solutions for the broadcast, telecommunications, and professional AV industries. Its products are used for the critical delivery of video, audio, and data services at live world-class sporting events and venues requiring the transport of high-bandwidth signals over long distances using fibre optic or IP networks. Solutions range from robust stand-alone field deployable products to complex fixed installation for fibre backbone networks.
With worldwide deployments, Bluebell Opticom counts many of the top blue-chip companies and broadcast networks among its clients. The company serves customers directly and through a select global network of partners and distributors.
Bluebell Opticom Ltd is a UK-based, privately funded company, which has been designing and manufacturing fibre optic equipment since 1994.
Related Content
Based on your recent activity and preferences we recommend the following pieces of content