Bluebell launches IP solutions
Mon 10, 06 2019
Bluebell announce the release of IP solutions supporting SMPTE ST 2022-6/7 and SMPTE ST 2110.
Maidenhead Berkshire 7th June 2019 – Bluebell Opticom, the award-winning technology provider of optical transport solutions, continues the development of market-leading technology for the media and entertainment industry with the launch of Edgeware and BB450-IP, a suite of products enabling customers to transition from base-band media to IP using SMPTE ST 2022-6/7 or SMPTE ST 2110 standards.
The Edgware Encapsulator module is a simple yet very powerful edge device that sits between video and IP networks. It accepts SD-SDI, HD-SDI or 3G-SDI which is then mapped to IP and multicast over standard 10G networks. A PC-based GUI or Ember+ control allows the user to configure IP address, so the unit can pass uncompressed media to the Decapsulator. Using hitless transfer protocol, the live content arrives unchanged.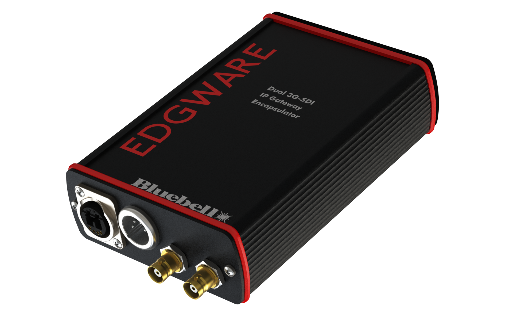 Complimenting Edgeware, the BB450-IP offers eight Analogue Audio channels along with one 3G-SDI Video signal which are encapsulated in either SMPTE 2022-6/7 or SMPTE 2110 and presented on a 10G Ethernet fibre network using Unicast or Multicast for maximum performance. This unit is controlled either by the front panel touchscreen or via the in-band GUI hosted on any PC on the network. Compatible with Ember+ Control systems, in SMPTE 2110 mode the BC450-IP can also be used as a Dante Edge device.
"With the growing momentum of SMPTE 2022-6/7 and SMPTE ST 2110 we are enabling our customers to bridge to IP workflows with the addition of the BB450-IP and Edgeware products to our technology portfolio." said Paul McCann, Managing Director at Bluebell. "With numerous solutions already deployed globally, we are perfectly positioned to deliver media over IP."
About Bluebell
Bluebell Opticom designs and manufactures high-quality infrastructure solutions for the broadcast, telecommunications, and professional AV industries. Its products are used for the critical delivery of video, audio, and data services at live world-class sporting events and venues requiring the transport of high-bandwidth signals over long distances using fibre optic or IP networks. Solutions range from robust stand-alone field deployable products to complex fixed installation for fibre backbone networks.
With worldwide deployments, Bluebell Opticom counts many of the top blue-chip companies and broadcast networks among its clients. The company serves customers directly and through a select global network of partners and distributors.
Bluebell Opticom Ltd is a UK-based, privately funded company, which has been designing and manufacturing fibre optic equipment since 1994.
Related Content
Based on your recent activity and preferences we recommend the following pieces of content