Together they aim to facilitate creative excellence through innovative production technologies  
Bridge Technologies today announces its partnership with 2110 Solutions, an emerging distributor and manufacturer's representative operating throughout North America. 2110 Solutions will integrate Bridge's VB440 into its product range, along with a number of the company's other IP-based solutions.
2110 Solutions works with a number of specialized firms operating in the field of IP-based production, bringing together a comprehensive set of solutions for deployment in a wide and flexible range of production environments; particularly non-conventional settings such as concerts and sport events. 2110's aim is to bridge the gap between the technical and creative aspects of production, using technology in a way that supports rather than distracts from viewer enjoyment.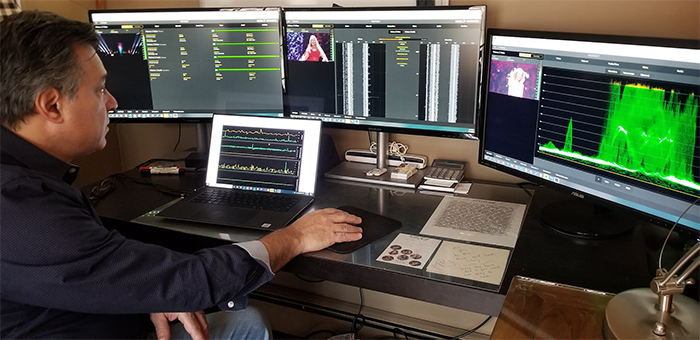 A fundamental component of this is ensuring that media transportation is facilitated without error, and therefore effective monitoring of the full range of data streams is a backbone element of any high-level production environment. Bridge's VB440 is suited to both conventional production studios, but, more notably, outside broadcast trucks and venues – making it a particularly relevant addition in 2110 Solutions' product line-up.
In essence, the VB440 enables production teams to continuously survey all layers of media transportation on an IP network and facilitates quick rectification of potential problems, helping to maximise Quality of Service (QoS). Using html-5 based tools, through the creation of both the Instrument View and Widglets API, Bridge have taken their deep knowledge of analytics and packet behavior and presented this in a way that is intuitive even to those without high-level IP knowledge. This means that the VB440 can aid creatives – such as camera painters – in their tasks without needing specialist network professionals onboard.
Joe LoGrasso – Managing Director of 2110 Solutions, who holds over 30 years of experience in the field of production environment setups – says of working with Bridge Technologies: "It's a pleasure to be working closely with Bridge Technologies. The nature of their solutions matches the philosophy of our operation completely; innovative, progressive and forward-thinking technology that serves one central purpose: the ability to deliver creative, engaging, quality content for viewers".
Simen Frostad, CEO of Bridge Technologies, said: "We are constantly pushing for end-users to recognize the importance of building monitoring solutions into their setups from the beginning. 2110 Solutions shares our understanding of this; they recognize how important effective monitoring solutions are when building a production environment to maximize creative possibilities and ensure consistent, high-level of performance. With Bridge products sitting at the core of the comprehensive solutions offered by 2110, producers can be sure that the production environments being created for them are operating at the highest level of effectiveness and efficiency, and are deployable across a whole range of potential applications, both now and in the future".
On February 24th  2110 Solutions will hold a free webinar about Remote Production Analytics. You can register by going to www.2110solutions.com
More information about Bridge Technologies and its products is available at www.bridgetech.tv or by phone at +47 22 38 51 00.
About Bridge Technologies
Bridge Technologies creates advanced solutions for protecting service quality in the digital media and telecommunications industries. The company's award-winning monitoring/analysis systems, intelligent switchers and virtual environments help deliver over 20,000 channels to more than 900 million subscribers in 94 countries. From head-end satellite ingress to microanalytics in the home network, Bridge Technologies offers patented innovation and true end-to-end transparency. A privately held company headquartered in Oslo, Norway, Bridge Technologies has worldwide sales and marketing operations through a global business partner network.
Learn more – www.bridgetech.tv
About 2110 Solutions
Headquartered in New York, the company is specialised in consulting, distributing and installing IP-based solutions for the broadcast industry.
Learn more – https://2110solutions.com/
Search For More Content