Broadcast Pix Announces 0% Financing on StreamingPix Systems
Wed 29, 07 2020
­­Tyngsboro, Mass. – July 28, 2020 –– Broadcast Pix™ announces a partnership with North Star Leasing to offer competitive financing packages for their entire range of solutions.
The partnership is being kicked off with a Summer Promo Package of 0% financing on StreamingPix, the complete live production and streaming solution.
Get everything you need to stream your live event, meeting, lecture or worship service for as little as $271 per month.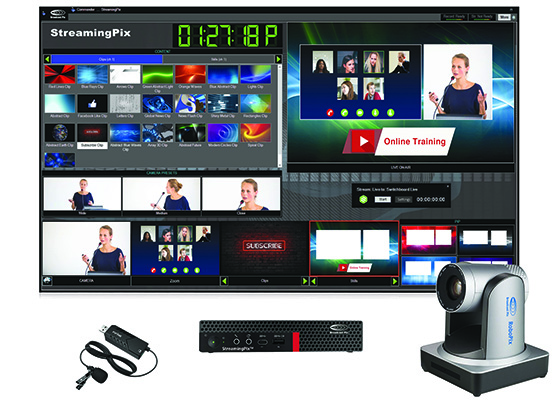 Offer Details*
0% Financing
24-Months to Pay
Down payment and processing fee to initiate lease
$1 buyout at end of term
*All applications are subject to credit approval. Offer ends October 31, 2020.
Competitive financing is also available for Broadcast Pix's entire range of integrated production solutions on request.
"Our partnership with North Star Leasing provides our dealers and customers with flexible options, enabling them to get the live broadcasting and streaming solutions they need to effectively communicate their message in todays' challenging times " said Graham Sharp, CEO, Broadcast Pix.
For more information on Broadcast Pix's financing options, click here.
About North Star Leasing
Founded in 1979, North Star Leasing is a provider of equipment financing solutions for businesses in a variety of industries. For the past 40 years, North Star Leasing has focused exclusively on helping businesses grow and expand by providing lease financing for mission critical equipment. North Star Leasing is a direct funder and takes a personalized approach to each application. www.northstarleasing.com
About Broadcast Pix
Founded in 2002, Broadcast Pix™ offers the complete toolset required to make great programs, elegantly integrated and easy to use. Our integrated production solutions feature patented control and automation technologies, plus the BPNet ecosystem that provides cost-effective, secure cloud services for backup, control, and collaboration. Broadcast Pix is proud to have more than 5,000 government, broadcast, live event, and visual radio customers in more than 100 countries. Learn more at broadcastpix.com.
Related Content
Based on your recent activity and preferences we recommend the following pieces of content