Broadcast Pix partners with CASTUS to deliver teleconferencing integration in today's work from home world
Tue 28, 04 2020
Incorporate Zoom and other teleconferencing systems within your Live Broadcasting or Streaming Production
Chelmsford, Mass. – April 28, 2020 –– Broadcast Pix™ announces their partnership with CASTUS to add live Zoom and other teleconferencing meeting support to their live broadcasting and streaming solutions.
Ideal for meetings, conferences, lectures, online training and remote learning applications, or anyone wishing to easily incorporate video conference sessions within live productions, Broadcast Pix users can now take a feed from any RTMP compatible teleconferencing system, like Zoom Meeting or any screen share tool into StreamingPix™, RadioPix™ and BPswitch™ FX integrated production systems through Stream by CASTUS.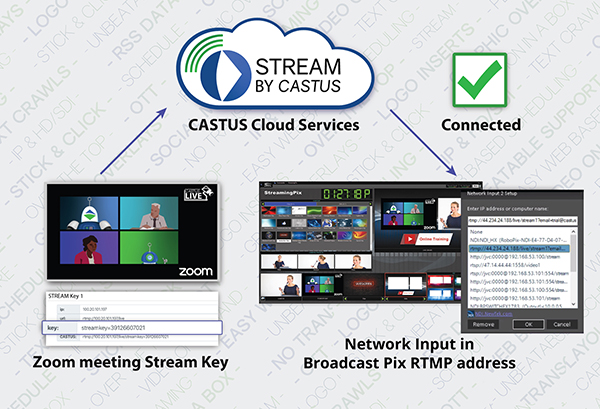 "Our goal was to create an easy, reliable solution for a common problem," said Nathan Bosseler, President and Co-Founder, CASTUS. "We at CASTUS are thrilled to have the opportunity to work with Broadcast Pix and their customers."
The teleconferencing video feed can be processed like any other source within the Broadcast Pix system, graphics or titles can be added and it can be combined with other sources to create interesting and compelling live productions.
"We are pleased that our partnership with CASTUS will enable Broadcast Pix users to include online meetings in their live productions," said Broadcast Pix Product Manager Tony Mastantuono. "It's very easy to setup with no Firewall Configuration or IP Port Forwarding required, and enhances our production capabilities while retaining the ease of use we are known for."
About Broadcast Pix
Founded in 2002, Broadcast Pix™ offers the complete toolset required to make great programs, elegantly integrated and easy to use. Our integrated production solutions feature patented control and automation technologies, plus the BPNet ecosystem that provides cost effective, secure cloud services for backup, control, and collaboration. Broadcast Pix is proud to have more than 5,000 government, broadcast, live event, and visual radio customers in more than 100 countries. Learn more at broadcastpix.com.
Broadcast Pix, BPswitch, RadioPix and StreamingPix are trademarks of Broadcast Pix, Inc.
Related Content
Based on your recent activity and preferences we recommend the following pieces of content