Broadcast Solutions and Media Online to visit three cities with Broadcast Roadshow in March
Thu 20, 02 2020
Bingen (Germany), 19 February 2020
Broadcast Solutions GmbH and its subsidiary Media Online are launching a roadshow visiting three cities in Germany. From 16 to 20 March 2020, the two companies will make stops in Munich, Berlin and Cologne. The free events will not focus on system integration but the presentation of innovative products, both companies exclusively support. Among others, Barnfind Technologies, Dream Chip, Q5X, Apantac, Phabrix, Lumantek, Zero Density and Broadcast Solutions' own cable manufacturer Broadcast Cables will be present.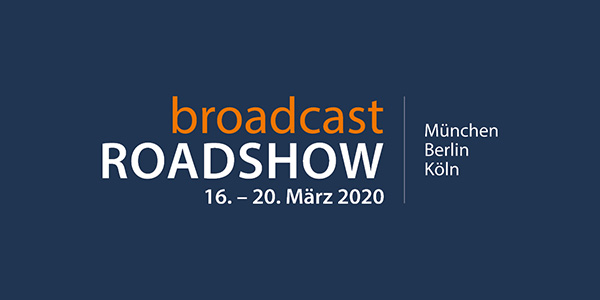 The products, tools and services open up new possibilities for the makers of live TV productions. The range extends from special cameras, special microphones, studio infrastructure to virtual studios.
Together with the respective product managers of the manufacturers, Broadcast Solutions and Media Online specialists are available for demos and hands-on product presentations.
Snacks and drinks will also be provided for the visitors' physical well-being.
The dates are:
16 March, Munich
18 March, Berlin
20 March, Cologne
The exact dates and links for registration are available on the roadshow's website at http://roadshow.broadcast-solutions.de/
For organisational reasons, we ask you to register for the free events.
About the manufacturers and products:
Q5X
Quantum5X (Q5X) specialises in wireless audio solutions for demanding applications such as sports, broadcasting and entertainment. The wireless body packs are robust and unobtrusive enough to be worn by professional athletes.
Dream Chip
Since 2016, Dream Chip has been developing small miniature SDI cameras with broadcast-quality that set standards in terms of design and quality.
Phabrix
Phabrix is the market leader for test and measurement equipment in the Broadcast Test & Measurement sector with the handheld test and measurement series Sx.
Zero Density
Zero Density develops creative solutions for virtual studio productions. Its tools are based on the native platform of Unreal Engine, Reality Engine®, with an advanced real-time broadcast compositing system and its proprietary keying technology, Reality Keyer®.
Apantac
Apantac is specialised in the production of multiviewers, switches, CAT extenders, splitters, switches or routers for multimedia signals. The signal extenders in the Mazama series are also available for fiber optics.
Barnfind
Barnfind Technologies manufactures multifunctional signal transmission and signal conversion solutions with the BarnOne and BarnMini concept. Another business area is the production of SFPs.
Lumantek
Lumantek offers various video products for the broadcast market. These include small, inexpensive video mixers with many additional features such as picture-in-picture effect, logo insertion, format conversion, frame synchronisation and multi-view output.
Broadcast Cables
Broadcast Solutions' own department for cable assembly and cable service assembles cables as certified workshop cables as yard goods or in combination with cable drums, connector panels, etc. – standardised or on customer request. The most common applications are available: SMPTE 311, TRIAX, TRIFLEX, XLR, CAT 7, multicore, network cables, hybrid cables (multiple fibre optic plus network, breakout, armoured, simplex, etc.).
Visit http://roadshow.broadcast-solutions.de/ to register for the events.
Broadcast Solutions is one of Europe's biggest system integrators and comprises a group of companies acting worldwide. Started in Germany more than 15 years ago, Broadcast Solutions stands for innovation and engineering "Made in Germany". With subsidiaries in Europe, Asia and the Middle East the group plans, implements and realises projects and offers its services in all broadcast and content related areas – globally.
With more than 150 employees worldwide and working as a hardware independent system integrator Broadcast Solutions offers its customers tailor-made solutions – from idea to implementation and beyond. You will find more information about our company and our products at www.broadcast-solutions.de / www.hi-app.de.
Related Content
Based on your recent activity and preferences we recommend the following pieces of content