Company will participate in IP Showcase and provide IP Monitoring and UHD Multiviewer systems to other manufacturers to highlight advances in interoperability
Tel Aviv – March 26, 2019 – In addition to demonstrating its advanced software only all IP monitoring and high-quality UHD Multiviewer solution on a 30' curved display in Booth #SU 6521, TAG V.S. will be found in action at numerous other locations around the Las Vegas Convention Center (LVCC) at NAB 2019. The Company will show its system at the IP Showcase, a favorite destination for those navigating a path toward an IP infrastructure; and in several booths where other exhibitors will leverage the interoperability of their solutions with TAG's advanced technology to illustrate the advantages of supporting SMPTE 2110 and the unparalleled mosaic output achieved by TAG.
IP Showcase – C12634
The Company will again be participating in the IP Showcase, a feature at major trade shows since 2016 designed to help industry professionals navigate the switch to IP and help them implement a new infrastructure to make the transition as securely and smooth as possible.
TAG will join other industry leading vendors and broadcasters to educate NAB attendees via presentations and product demonstrations which will include the Company's MCM-9000 software only, all IP-based UHD Multiviewer and Monitoring system.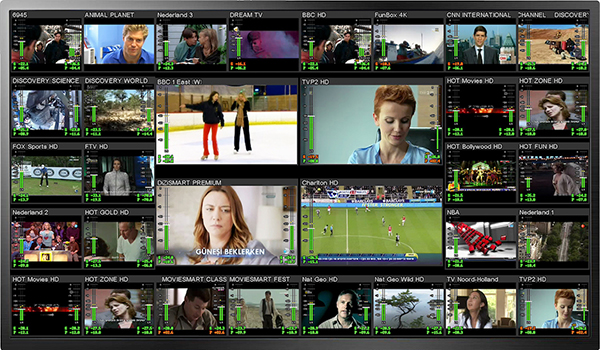 AJA Video Systems- Booth SL2416
Catch TAG in action at the AJA Video Systems Booth where AJA will demonstrate the IPR-10G-HDMI convertor's capabilities and interoperability with the MCM-9000. The IPR-10G-HDMI will receive and decode the mosaic output in SMPTE ST 2110 UHD and format it to HDMI for display on a UHD TV Screen.
Arista Networks- Booth N3008
At the Arista Networks booth catch TAG's UHD mosaics displayed on screens using Arista switches to route ST 2110 sources to and from the COTS server running the TAG MCM-9000 software application.
Embrionix – Booth N2508
And TAG will be in action at the Embrionix booth; see a full ST 2110 ecosystem where the Embrionix gateways feed ST 2110 sources to the COTS server running the TAG MCM-9000 software application and convert the ST 2110 mosaic output to HDMI for display on a TV Screen showing a TAG UHD mosaic configuration.
About TAG V.S. LTD
TAG V.S. specializes in innovative IP monitoring and high quality Multiviewer solutions. Its unique approach of a software only "all IP" system that runs on standard off the shelf hardware, provides state-of-the-art IP monitoring and analysis tools combined with a high quality UHD Multiviewer available on standard and mobile devices displays. A server-based platform provides products that are versatile and scalable, and support multiple formats including MPEG TS, Uncompressed and OTT. For more information: www.tagvs.com
Search For More Content