Come & Experience Azimuth Soft Solutions at NATEXPO 2019
Mon 28, 10 2019
Booth#B54, VDNH, Moscow, Russia
Azimuth Soft together with BRAM Technologies will be showcasing solutions for Playout Automation, NRCS&News Operations, Live Production. They are designed for demanding broadcast applications. Our products are server-based and created to automate and organize every stage of the broadcast chain through to playout. They are scalable and flexible, depending on what you want to accomplish. We provide the best solutions at a fair price and offer high quality installation, technical support and team training.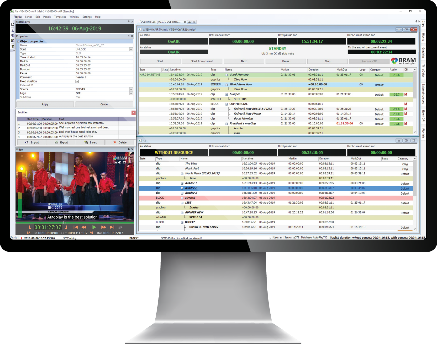 Create an integrated playout platform delivering industry-leading automation with AutoPlay
Modular, scalable and highly reliable integrated playout solution and enterprise automation system.
An integrated playout solution from simple to complex which enable to automate the workflow environment, maximize the value of media assets efficiently and leverage technology in line with your business plans. It is designed for demanding broadcast applications: new channel launches, multichannel expansions, disaster recovery and any playout operation. NATEXPO will see the latest features in playout functionality, including the ability to insert teletext and subtitles.
Deliver real-time stories to the fast-paced newsroom environment with NewsHouse
Enable to collaboratively plan, create and deliver real-time stories to the fast-paced newsroom environment.
An end-to-end newsroom platform designed to cope with all the challenges that modern newsroom workflows face. This groundbreaking solution allows journalists, editors, and producers to collaboratively plan, create and deliver news. Suitable for all newsroom types and sizes. Provides several advanced tools for planning, ingest, scripting, editing, production, playout, analysis and archive. Visitors to our stand will be able to experience a web platform News feeds ingest module NewsWeb to facilitate content distribution, an easily manageable prompter Teleprompter and an advanced graphics software module TitleStation Mix.
Explore real-time interactivity and fast turnaround with Studio X
A multichannel system created for video and audio signal ingest, playout and monitoring.
One of the advanced products designed for demanding broadcast applications. It is particularly useful for multicamera ingest productions. Studio X provides several functions, and can manage an unlimited number of channels and associated equipment. It also allows 'on the fly' editing and the convenient preparation of files for multicamera montages. The results are shorter production cycles and enriched content.
About Azimuth Soft
We are committed to creating and implementing state-of-the art TV broadcast automation solutions to ensure our customers are empowered with smart and scalable technology. Our goal is to enable our customers perform better and grow as the industry evolves. From a business standpoint, we have a history of having the ability to identify unique customer needs and to design solutions and provide technical support which solve those needs, along with consistent excellent quality. But our vision is not simply about great products, it is more a reflection of the kind of future we all want to live and work.
NATEXPO is an annual, international exhibition and conference focused on technologies, professional equipment and services for the Television, Radio and New Media Broadcasting and cinema production. NATEXPO is providing an ideal platform for international business development and technology exchange as well as serving as the perfect gateway to the Russian market, both on a national and regional level, for equipment manufacturers, technology providers, content producers, channel suppliers and service operators.
For more information on Azimuth Soft, visit www.azimuthsoft.tv.
Related Content
Based on your recent activity and preferences we recommend the following pieces of content