Cardiff, UK and Madrid, Spain 25th February 2020: Object Matrix has announced a reseller agreement with Madrid based Compaas Media. It enables the company to sell and integrate Object Matrix technology and services, in particular, MatrixStore the media-focused private and hybrid cloud storage solution to media companies throughout Spain.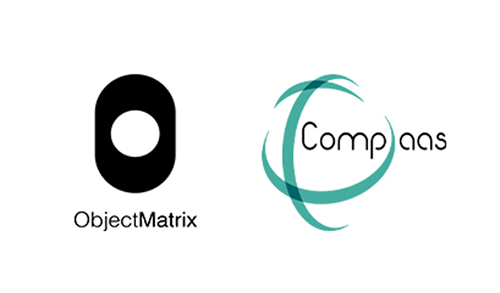 Built on object storage technology, MatrixStore enables media companies to provide instant access to content on nearline and archive storage thus empowering their creative teams to self-serve editorial or production assets on demand. MatrixStore also provides digital content governance ensuring assets are secure, protected, discoverable and accessible at all times. Integrations with cloud archive storage deliver hybrid workflows whereby users can browse the entire content library using Object Matrix applications such as Vision.
Compaas Media provides professional services that help media organisations find the right digital transformation and integration technology with a focus on bringing greater efficiencies to the business. As well as supplying the latest tools, Compaas also provides continuous customer support and has expert knowledge of both media workflows and cybersecurity techniques and processes. It supplies a portfolio of services including remote production, playout, AI integrations, and knowledge graph databases, amongst others.
Thanks to this latest resale agreement, Compaas can now enable its customers to migrate to object storage and become 'cloud-ready' enabling them to better monetise their archives whilst keeping content secure and future-proof. This new partnership will make it even easier for media companies across Spain to purchase and implement MatrixStore, with Compaas also able to handle the migration to the new archive from any existing storages.
César Ona Valero, Managing director, Commented: "Our customers are looking for a technologically flexible and economically predictable near-line archive storage platform. MatrixStore ticks all the boxes while being easy to use with a powerful backend, meaning users can focus on what is important: their core business and not the technology behind it."
Simon Harper, Channel Manager, added: "Media companies across the globe are increasingly looking to object storage to make their archive discoverable and easier to monetise. Spain is no exception. At the same time, migrating to a new storage platform can be a daunting task, which means it is extremely important to have an expert on hand to manage that process. Compaas Media has the right combination of expert knowledge and focus on support to deliver an integrated service to customers across Spain."
About Object Matrix
Object Matrix is the award-winning software company that pioneered object storage and the modernisation of media archives. It exists to enable global collaboration, increase operational efficiencies and empower creativity through the deployment of MatrixStore, the on-prem and hybrid cloud storage platform. Its focus on the media industry gives it a deep understanding of the challenges organisations face when protecting, processing and sharing video content. Customers include: BBC, Orange, France Televisions, BT, HBO, TV Globo, MSG-N and NBC Universal.
About Compaas Media
Compaas Media is a new company born from the most experienced professionals in the Spanish Media Market whose mission is to guide media companies in their digital transformation to take advantage of new technologies like AI and multicloud services to improve the efficiency of their workflows and their revenue.
We help customers like Cosmopolitan TV to improve by mixing local and cloud storage and MAM solutions to seamlessly manage their media workflows.
Search For More Content