IABM CEO's Comments on ConnecTechAsia/BroadcastAsia being Postponed due to Coronavirus Outbreak
Fri 06, 03 2020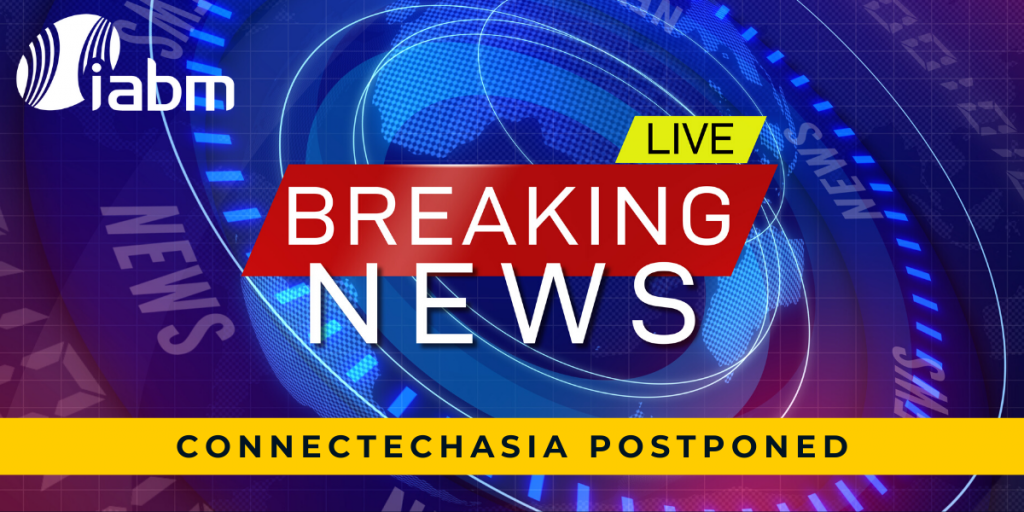 We are sad to see that the impact of coronavirus COVID-19 has meant another key show for our industry has had to be postponed – the ConnecTechAsia event in Singapore scheduled for June.
Recognised by many as the third show behind IBC and NAB, ConnecTechAsia, situated in an area identified as a COVID -19 hotspot, has now been rescheduled for 29 September – 1 October at Singapore EXPO & MAX Atria (view the full press release here). Many of the events that have so far been postponed have been rescheduled for the beginning of Q4 which will in itself cause even greater show congestion at that time.
Obviously the whole world is at risk of this pernicious virus and in addition to those events that have been cancelled, postponed and/or rescheduled, we are seeing increasing apprehension concerning international travel that may have further impact on international events.
Clearly we are not unique; this epidemic is affecting all events and most industries, markets and supply chains. However, IABM is ideally placed to provide both up to the minute information and a wide range of supporting services for both technology vendors and buyers in broadcast and media.
We are in constant contact with organisers of all the shows and events in our industry worldwide, and we have created a page on our website where you can see the latest status and statements on all these events in the light of COVID-19 coronavirus here.

Whatever happens with exhibitions and events over the coming months, we know that in our dynamic industry, 'the show must go on', and IABM has a wealth of resources that will keep you up to date with everything that's happening around the world:
IABM is here to serve our members and the wider industry as we all navigate these challenging times. Let me know if there's anything else we could be doing to help.
Regards
Peter White, CEO, IABM
Related Content
Based on your recent activity and preferences we recommend the following pieces of content