Accompanying image, left to right: Ross Video Chairman and CEO David Ross presents Platinum Premier Partner award to Danmon Asia Managing Director Bjarne Pedersen.
Hanoi, Vietnam – March 20th, 2019 — Ross Video announces that Danmon Asia has been appointed as Master Distributor for Vietnam. With this agreement, Danmon Asia will sell and support the full range of Ross products including production switchers, routers, motion graphics systems, camera robotics, newsroom systems, virtual sets, augmented reality, workflow management, automated production control, trackers, keyers, and signal processors. These products are designed from the ground up to work seamlessly together while supporting the world's best interfaces to third-party solutions.
Ross APAC Director of Sales Andrew Tan comments: "Danmon Asia is the ideal choice as our Master Distributor in Vietnam given its professional way of doing marketing, approaching customers and delivering post-sale technical support."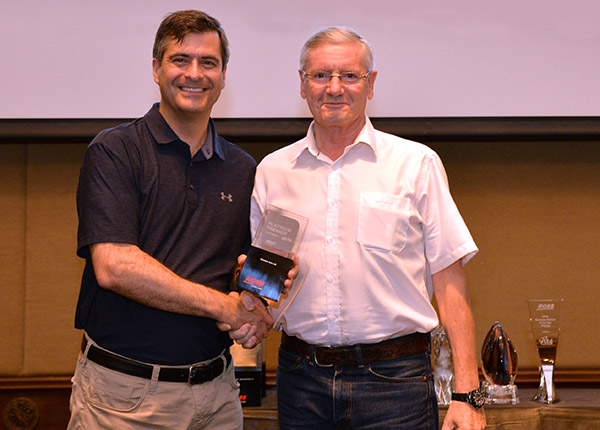 Danmon Asia Managing Director Bjarne Pedersen adds: "Ross Video is a globally recognised brand with products and solutions that fit very well with our portfolio. They combine high quality and competitive pricing and have great potential to increase the daily work efficiency of broadcasters and telecom providers."
About Danmon Asia
Danmon Asia is a premier creative technology distributor of many high-end brands, serving Vietnam. The company is headquartered in Hanoi with a branch office in Ho Chi Minh City. Danmon Asia is part of the Danmon Group, one of the world's leading suppliers of audio, video, transmission products, digital media solutions, systems integration, service and support. The Danmon Group operates internationally from offices in Denmark, Sweden, Norway, the United Kingdom, Germany, Spain, Vietnam and Dubai. More details about Danmon Asia and our services will be found at www.danmonasia.com.
About Ross Video
Ross powers video productions for billions of global viewers daily with the industry's widest range of high impact, high efficiency production solutions. Ross makes it easy to create compelling news, weather and sports broadcasts, engaging material for sports stadium screens, entertainment shows and rock concerts, educational institutions, legislative assemblies, corporate applications and inspiring content for houses of worship. Ross solutions have impressed the audiences and marketing partners of NBC Sunday Night Football, Eurosport, BBC World, Google YouTube Space London and China's eSports powerhouse VSPN. Ross delivers an unrivalled range of products and services comprising virtual studios, real-time motion graphics, cameras, robotic camera systems, production switchers, video servers, infrastructure and routers, social media management, newsroom systems and mobile live events.
Search For More Content