5th April 2019 – Cambridgeshire, UK – dB Broadcast, the UK's leading system integrator, has appointed Fergus Coulbeck as Project Engineer. He joins dB from Arqiva where he was a Transmission Controller, and was previously at ViewSat, gaining experience of both the technical and production aspects of media and broadcast.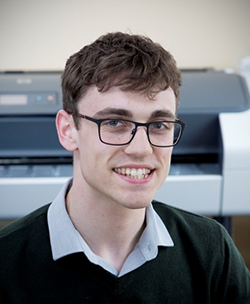 Coulbeck has a first-class honours degree in Media Technology from the University of Salford. He joins several fellow alumni who have joined dB. The company has excellent links with Salford University, one of the country's leading institutions for broadcasting technology.
He joins the Engineering Department – run by Graham Pearl, Engineering Director – which now comprises 22 full time staff, four of whom have started in the last nine months. dB Broadcast has a policy of recruiting its engineers and providing extensive training, rather than relying on contract staff.
Fergus Coulbeck will be working to Steve Carlson, Project Manager, responsible for aspects of the major project work dB is carrying out for its long standing clients.
"We are delighted to be able to attract talent of Fergus' calibre to the company", said Tom Swan, Sales and Marketing Director. "We are in an exciting growth stage, with several major projects well underway."
About dB Broadcast
dB Broadcast (dB) is the UK's largest and most successful independent systems integrator, and is expert in solutions design, systems build and integration, migration and support for both traditional and new technology broadcast systems.
dB is independent of hardware and software vendors and represents a centre of excellence for the delivery of modern day, fit for purpose broadcast systems. Consultancy and after-sales support are an increasing part of dB's portfolio of services.
dB also designs and manufactures products for the broadcast industry including: Cardinal range of mains distribution units (MDUs), Hawkeye for switching and monitoring all types of broadcast signals, MERlin DVB-T2 and DVB-T monitoring receivers, Showman multi-standard analogue TV receiver/demodulator and bespoke products to a customer's specific requirements.
With purpose-built headquarters in Cambridgeshire UK, dB has approximately 20,000 square feet of space for prefabrication and test of customer systems.
Search For More Content