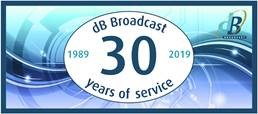 31st October 2019, Cambridgeshire, UK – dB Broadcast, the UK's leading systems integrator, is celebrating another milestone as it reaches its 30 year anniversary. Started in October 1989 by the current MD, David Bird, the company has grown consistently, and today employs over 50 full time staff as well as more than 150 contractors.
dB Broadcast has now outgrown its current premises, and is planning a move to a purpose-built, state of the art facility near Ely, Cambridgeshire, just a mile away from its present location. It will provide more space for the design, prefabrication, testing and administrative functions of the business, and will also include an area for proof of concept systems. In addition, the move to a single building from three separate ones will improve efficiencies and provide the security of owning the facility.
Over 30 years, dB Broadcast has been involved with some of the UK's most significant broadcast projects, including playing a central role in the introduction of DDT in the late 1990s, and the DTT digital switchover programme completed in 2012. From the first coding and mux installations back in the late 1990s, to the current IP based configurations of today, playout facilities for most of the UK's channels, the BBC move to New Broadcasting House, Sky Studios and many more, as well as some major overseas projects.
The company puts its recent success down to understanding and embracing the latest technological innovations, including the current transition to broadcast IP systems. dB Broadcast has picked up many accolades, including listings in The Sunday Times Tech Track listing in 2013 and 2018, and this year being named as one of '1000 Companies to Inspire Britain' by the London Stock Exchange Group.
Construction work has commenced at the new 1.6 acre site at Lancaster Way, Ely, and is expected to be completed by early summer 2020. An internal floor space of around 25,000 sq. ft. (2,320 sq. m) will be available, and the building is planned on two floors with factory, office and lab space, client meeting rooms and an outside area looking over a lake.
"We would like to thank all of our clients with whom we have had the pleasure of working for so long", said Tom Swan, Sales and Marketing Director. "dB Broadcast looks forward to the next 30 years, which we can be sure will be an exciting time!"
About dB Broadcast:
dB Broadcast (dB) is the UK's largest and most successful independent systems integrator, and is expert in solutions design, systems build and integration, migration and support for both traditional and new technology broadcast systems.
dB is independent of hardware and software vendors and represents a centre of excellence for the delivery of modern day, fit for purpose broadcast systems. Consultancy and after-sales support are an increasing part of dB's portfolio of services.
dB also designs and manufactures products for the broadcast industry including: Cardinal range of mains distribution units (MDUs), Hawkeye for switching and monitoring all types of broadcast signals, MERlin DVB-T2 and DVB-T monitoring receivers, Showman multi-standard analogue TV receiver/demodulator and bespoke products to a customer's specific requirements.
With purpose-built headquarters in Cambridgeshire UK, dB has approximately 20,000 square feet of space for prefabrication and test of customer systems.
Search For More Content