12th December 2019, Cambridgeshire, UK – Broadcast Engineer Alex Quince of dB Broadcast, has picked up a prestigious award at the IABM Annual International Business Conference this month, barely a year since joining the UK's largest system integrator.
Alex was presented with "The Andrew Jones Young Person of the Year" award by Lucinda Meek, Finance Director of IABM. He was nominated by David Bird, Managing Director of dB Broadcast, and supported by many of his colleagues.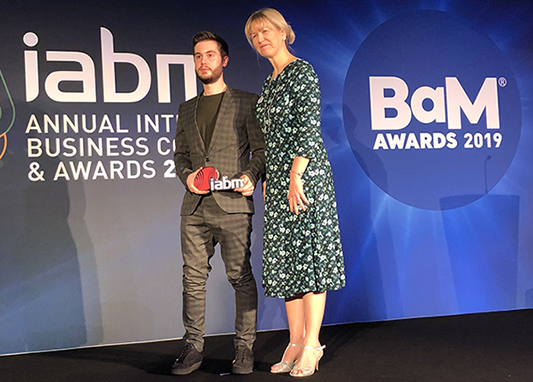 Lucinda Meek said: "It is a great pleasure to make this award to Alex Quince. This award recognises someone under 25 years old and new to the industry for their hard work, diligence and potential. Encouraging the flow of young talent into the industry is vital for its continuing development and success. Alex has abundantly demonstrated all the qualities we look for in selecting the winner and richly deserves this accolade."
Picking up the award, Alex Quince said: "I'm very thankful and fortunate to be given such great opportunities early in my career, learning from some of the top engineers in broadcasting and the very latest products. Working at dB Broadcast is giving me an excellent grounding in technical projects within the industry, while allowing me to build some life-long skills and friendships."
David Bird, Managing Director at dB Broadcast, said of Alex: "We have trained over 50 young graduates during our 30 years, and Alex has been the most impressive in his first year".
Tom Swan, Sales and Marketing Director said: "We congratulate Alex on this well-deserved recognition. Our clients benefit from Alex's technical ability and his capacity for sustained hard work."
Alex joined dB Broadcast last year and has made a real impact while working on projects in Acton and Chiswick Park.
About dB Broadcast:
dB Broadcast (dB) is the UK's largest and most successful independent systems integrator, and is expert in solutions design, systems build and integration, migration and support for both traditional and new technology broadcast systems.
dB is independent of hardware and software vendors and represents a centre of excellence for the delivery of modern day, fit for purpose broadcast systems. Consultancy and after-sales support are an increasing part of dB's portfolio of services.
dB also designs and manufactures products for the broadcast industry including: Cardinal range of mains distribution units (MDUs), Hawkeye for switching and monitoring all types of broadcast signals, MERlin DVB-T2 and DVB-T monitoring receivers, Showman multi-standard analogue TV receiver/demodulator and bespoke products to a customer's specific requirements.
With purpose-built headquarters in Cambridgeshire UK, dB has approximately 20,000 square feet of space for prefabrication and test of customer systems.
Search For More Content