disguise r17.3 is now live: with New Key Features for More Streamlined and Efficient Workflows
Fri 03, 07 2020
disguise launches its r17.3 software: simplified and optimised for faster working, on the fly changes and delivering live and virtual experiences with confidence
disguise takes on the new 'normal' with the launch of r17.3, its latest software release that delivers an improved workflow for enhanced efficiency and successful completion of projects post-lockdown. New features include Indirections, Multi-layer Editing, Object Assignment Hotkeys, Crossfaded Loop Section Mode as well as a number of improvements and bug fixes to further streamline the user experience.
Headlining the release is the introduction of 'Indirections', which gives all new flexibility to change keyframe objects. Users can now quickly and easily change keyframe objects such as mappings, video clips, textures and configurations remotely via third-party protocols such as OSC, DMX or a dedicated API. This functionality unlocks new workflows for esports, making changes to the visual experience in response to gameplay, for example, to spotlight who is leading the match at any given time.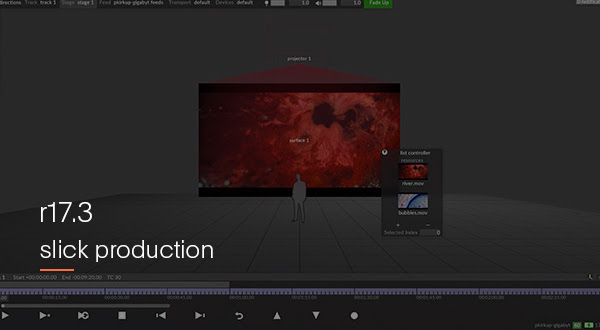 The new 'Multi-layer Editing' feature, allows users to edit multiple layers quickly, saving time sequencing and simplifying workflows by assigning common parameter values across layers. The ability to select multiple layers and keyframe values to layers simultaneously allows users to respond to feedback fast, and ensure time onsite is maximised.
According to Wyatt Bartel, Senior Technical Director at Lux Machina who had early access to the software: "There's never a time I'm not trying to select two things at the same time. The new release should help end on-site frustration and build better relationships with directors. It also has real-world impact when time is of the essence."
Also included in r17.3 is 'Object Assignment Hotkeys' allowing users to tailor their workflows for speed and ease of use by assigning your own custom keyboard shortcuts for supported objects. Quickly iterate through layers to make creative changes, and keep up the momentum to deliver the production.
"Object Assignment Hotkeys adds to disguise's already powerful hotkey list – the less my fingers come off the keyboard the better," adds Wyatt.
The addition of a 'Reference Point Manager' allows users to stay on top of multiple projectors by viewing projector calibration points in a list format which makes muting, unmuting and locking points easier to accomplish.
r17.3 also offers time savings in post-production with the new 'Crossfaded Loop Section Mode'. Decide how media will loop in the moment, crossfade from the end of the section to the beginning, or jump to the right place in the track for a take without having to play through the entire clip.
In addition to the above, r17.3 also has a wide range of other improvements guaranteed to streamline workflows including:
● NDI SDK has been updated to version 4.5
● The ability to point manager at a template project
● Alt-drag in the feed mapping editor
● Clicking a tag or note now jumps the exact frame where the tag is placed
● Dither parameter added to the gradient texture tool to help reduce banding
● You can now pause the playback of a Notch block
● Import and Export of feed maps
disguise r17.3 is available to download now from www.download.disguise.one
About disguise
disguise technology platform enables creative and technical professionals to imagine, create and deliver spectacular live visual experiences at the highest level.
With a focus on combining real-time 3D visualisation-based software with high performance and robust hardware, they enable the delivery of challenging creative projects at scale and with confidence.
Turning concepts into reality, disguise has offices in London, Hong Kong, New York, Los Angeles and Shanghai, with technical teams across all to support customer needs, as well as sales recorded in over 50 countries.
With an ever increasing global partner network and working alongside the world's most talented visual designers and technical teams on global concert tours for artists, including U2, The Rolling Stones, Beyoncé, Pink! and Ed Sheeran, live events, including Coachella and the Moscow International Festival, theatre productions such as Frozen and Harry Potter as well as an increasing number of films, live TV broadcasts, corporate and entertainment events – disguise is building the next generation of collaborative tools to help artists and technologists realise their vision.
For more information, please visit www.disguise.one
Related Content
Based on your recent activity and preferences we recommend the following pieces of content