Large number of Mo-Sys camera tracking systems available for creative producers across all the Salford studios
London, UK, April 22, 2021 – Mo-Sys Engineering (www.mo-sys.com), world leader in precision camera tracking solutions for virtual studios and augmented reality, is extending the capabilities for virtual and augmented reality at Dock10's studio complex in Salford. Dock10 already had five channels of camera tracking, and it is now adding a further nine, ensuring the technology is available for multiple clients simultaneously.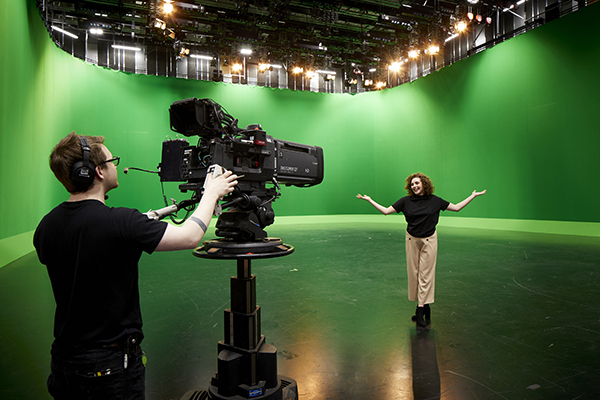 In any creative production marrying live action with computer-generated scenic elements, the CGI needs to know exactly what the camera is seeing to ensure the combined image remains precisely locked. StarTracker is widely regarded as the leader in camera tracking technologies, using a random pattern of reflective dots – "stars" – on the studio ceiling. Once mapped, which takes just a few moments, any StarTracker camera can be precisely located in three-dimensional space, and for 6-axes of movement. In addition, precision lens data enables the CGI elements to be distorted to match the camera lens for even greater realism.
Dock10 initially invested in StarTracker for the premium sports show Match of the Day for BBC Television, along with the educational service BiteSize Daily. By adding nine more StarTrackers, Dock10 can provide camera tracking and virtual production across multiple studios and productions simultaneously.
"Directors want to be able to work in different sized studios, to accommodate a range of performers, physical sets and mixed reality," said Andy Waters, head of studios at Dock10. "To meet this growing demand from our clients, we took our experience with key enabling technologies like StarTracker, and super-sized it across all our studios."
Michael Geissler, CEO of Mo-Sys, added "Dock10 offers a unique capability in the UK – producers have the freedom to choose the size of studio right for their job, and put in it the technology they need. Virtual and augmented reality is an important part of so many productions today, from commercials to game shows, talent contests to sports analysis. By its very simplicity, StarTracker makes set-up for virtual production fast and easy."
About Mo-Sys
Mo-Sys is an innovative designer and manufacturer of advanced image robotics and virtual production products for the high-end film and broadcast industry. The Mo-Sys product range spans remote heads and motion control, broadcast robotics, mechanical and optical camera tracking for augmented reality and virtual production, and on-set visualization. Find out more at www.mo-sys.com.
Search For More Content