dock10 Invests in Leader LV5600 for New UHD and HDR Studios
Thu 23, 01 2020
Following recent investment in Leader LV7600 UHD HDR rasterizers for its UHD and HDR capable grading and finishing areas, dock10 has purchased a Leader LV5600 SDI/IP waveform monitor as part of ongoing technical development of the production resources supporting MediaCity UK in Salford. The LV5600 was supplied by Leader Europe UK channel partner Jigsaw24. It will be integrated into dock10's newly completed UHD HDR live production system, checking incoming camera feeds from multiple studio cameras to ensure uniform alignment and color matching.
"Ultra high definition and high dynamic range each have an important role to play in the television industry as it progresses to meet rising viewer expectations," comments John O'Shaughnessy, Head of Technology Operations at dock10. "The greater quality made possible by originating content in higher resolution and wider illumination span opens up many new opportunities for content creators. It also increases the long-term value of their productions. Leader's LV5600 incorporates the tools our operators and technicians need to ensure the full impact of UHD and HDR is carried from the point of capture in the studio front end right through to each viewer's display screen."
"The transition to higher resolution and wider dynamic range is a one-way journey," adds Rupert Watson, Sales Director, Production and Production, at Jigsaw24. "The LV5600 allows production and post production companies to check and compare all the essential parameters within a single compact instrument."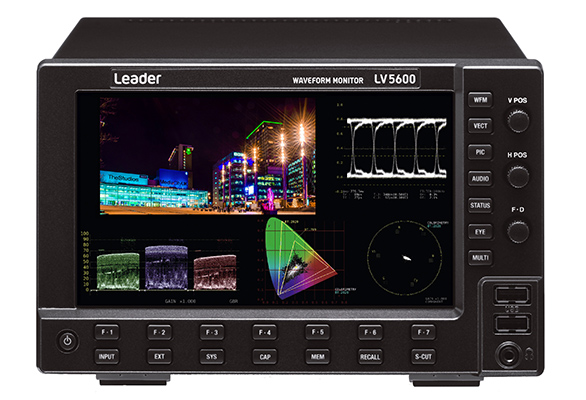 "Leader is clearly established as the industry-preferred test and measurement equipment manufacturer for broadcast UHD and HDR production, whether in SDI or IP workflows, for terrestrial, satellite, cable or OTT delivery," adds Leader Europe Business Development Manager Kevin Salvidge. "Our Cinezone HDR display gives camera crews the opportunity to monitor and adjust HDR images and optimise UHD focus in real time. Technicians have fast access to practically every aspect of the video and audio signal feed, plus related data, including the ability make side-by side comparison of two or more sources on a single easily configured touch screen. In its robust portable case, the LV5600 is ideal for use even in the most demanding environments."
Leader's LV5600 is a mains-powered SDI/IP waveform monitor in a half-rack width 3U desktop chassis with a touch-screen front panel display. It provides all the facilities needed to monitor UHD/HD/SD-SDI as well as video-over-IP signals seamlessly in a hybrid operating environment. Engineering related features include test pattern generation, eye pattern display, closed caption monitoring, CIE color chart, high dynamic range measurement, focus assist, customisable screen layout, tally interface, 4K/UHD operation, 10G IP input and 12G-SDI interfaces. SMPTE 2022-6, SMPTE 2022-7 and SMPTE 2110 protocols are all supported. The LV5600 also incorporates Leader's intuitive Cinezone and Cinelite which are familiar to many content production staff.
The LV7600 rasterising waveform monitor offers the same capabilities as the LV5600 but in a low-profile 19 inch 1U form-factor for easy rack or desk mounting.
The recently announced option LV5600-SER06/LV7600-SER06 is a 25 GbE single-mode video-over-IP / multi-mode fibre IP interface which provides full conformance with the SMPTE 2110 standard for transmitting 4K content in a non-compressed format via Ethernet at up to 25 gigabits per second. Also new for these instruments, option LV5600-SER32/LV7600-SER32 is an IP test pattern generator which can produce HD and 3840 x 2160 UHD test signals for delivery via SMPTE ST 2110-20/30/31/40 IP. IP channel stress testing can be performed by adding jitter and errors to IP packets. A network synchronisation mode allows PTP-synchronised video and audio test signals to be generated.
About dock10
Based at the heart of MediaCityUK, dock10 (www.dock10.co.uk) is home to some of Britain's best-loved productions, including The Voice, Blue Peter, Match of the Day and A Question of Sport. Its studios and specialist post production services are used to make everything from popular prime time shows to outstanding commercials and corporate films for leading brands. dock10 offers broadcasters, production companies and creative agencies the world-class facilities they need to produce award-winning content.
About Jigsaw
Jigsaw24 (www.jigsaw24.com) is a leading B2B technology solutions provider and Apple Authorised Enterprise Reseller. With specialists in production, post, finishing, audio and infrastructure, we design, deliver and support end-to-end solutions for some of the UK's biggest facilities. As an Avid Elite Partner, with top accreditations from manufacturers including Adobe, HP, Blackmagic Design and more, we can advise on everything from Dolby Atmos mixing to cloud-first editing workflows, all the way through to solutions for final delivery – all of which you can see live in our Soho demo facility. Jigsaw24 was founded in 1992 in Nottingham, ideally located to provide full nationwide coverage.
About Leader Electronics Corporation
Leader Electronics Corporation (www.leader.co.jp/en) has earned a worldwide reputation for designing and manufacturing highly reliable, practical and cost effective test and measurement instruments. Leader products are specified for research, development, broadcast, production and service applications. Manufacturing quality is built in every step of the way. Less than 0.1% of all Leader products made are ever returned for warranty repair or adjustment.
The Leader product range includes award winning 3G/HD/SD SDI waveform monitors and rasterising test instruments with customisable layout. Among available options are 4K/UHD, CIE color chart, HDR measurement, test pattern generation, eye and jitter measurement and closed caption display, IP and 12G SDI. Leader has helped many customers manage their transition from analog to digital, from SD to HD, from HD to 4K/UHD, from SDR to HDR and from BT.709 to BT.2020 wide color gamut. Leader also provides dependable support for the transition from SDI to IP.
Related Content
Based on your recent activity and preferences we recommend the following pieces of content