Easel TV teams up with Mux to offer end-to-end OTT services with deep video streaming quality insights
Tue 03, 09 2019
Easel TV's award-winning OTT platform adds Mux Data integration for complete insight into video playback quality, which is key to a high-performing OTT service across multiple devices.
LONDON, UK: Easel TV, the leading provider of all-in-one SaaS OTT video services, and Mux, the US software company that produces video infrastructure and monitoring tools for developers and publishers of online video, have integrated their products to allow for a powerful go-to-market bundle for clients looking for packaged SaaS OTT services.
"We've implemented a high quality distribution solution, which has included multi-CDN architecture with dynamic switching capability where required.", said Bill Scott, COO of Easel TV, "Our clients also want to see how their service is performing in real-time and video quality is a vital part of that. The ability to set alerts based on quality thresholds is now an important part of our service monitoring capability." Scott says that Easel TV has tried a number of video playback monitoring and analytics services on the request of their clients over the years and Mux was the one that stood out. "It was clear there would be a definite advantage to having the option of a bundled solution on the market that could be included with a client's service from day one."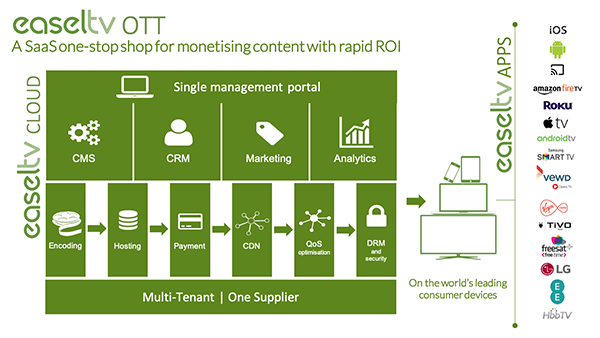 For the right OTT video streaming service you don't just require a rock solid service, you also need to keep it that way day-in and day-out and that necessitates deep and meaningful insight into exactly what the end-user playback experience is like.
"The benefits are clear for everyone," said Cyril Duprat, Director of Business Development at Mux, "Mux Data gives you the ability to quickly diagnose any issues that your end users are experiencing with our Real-Time Dashboard and also optimize your streaming performance over time. Clients get detailed insight from service inception, a critical time for any service and perhaps the most important time to have the data available to you."
Mux and Easel TV get to offer a fully tested and integrated service between them, removing risks, cost and time to implement for the client and giving them the comfort of a stable established offering.
If you'd like to find out more Easel TV and Mux, we will be at IBC. Get in touch at contact@easeltv.com or go to www.easeltv.com/ or https://mux.com/
About Easel TV:
Easel TV operates a multi-tenant licenced OTT service for broadcasters, Telcos, TV operators, content providers and brands.
Easel TV's OTT platform provides everything required to run and operate your own direct-to-consumer (D2C) OTT service; all backend (cloud) management and editorial tools and comprehensive support of apps on the world's most popular consumer devices. It allows content providers, media entertainment companies and brands to support best-of-breed digital TV and OTT solutions quicker, with greater reliability, at minimal cost.
Easel TV's clients include Curzon Home Cinema, hayu from NBCUniversal, Airwave hotel hospitality service, all3media, HTC brand entertainment service.
Easel TV already boasts an award-winning UX/UI across an impressive range of consumer devices; desktop, mobiles, tablets (iOS and Android), TVs (Samsung, LG, Philips, HbbTV), OTT boxes (Apple TV and Amazon Fire TV), Pay TV (Netgem, Arris, Samsung, Cisco and TiVo), TV browsers (Opera TV) and Google Cast.
For more information, visit www.easeltv.com
Related Content
Based on your recent activity and preferences we recommend the following pieces of content