Easel TV delivers all the benefits of distribution through MSOs and vMVPD devices without sacrificing big data and the customer relationship
LONDON, UK: Easel TV, a leading provider of all-in-one SaaS OTT video services, unveiled the addition of powerful discovery functionality designed to allow its clients to expose their content and services on consumer devices, such as Amazon Echo and Fire TV and Apple TV.
"We discovered that there is a lot of excitement and an instinctive assumption that content owners ought to syndicate their content to the 'channel' services of Apple, Amazon, Roku et al rather than have their own service on those manufacturers' streaming devices", said Joe Foster, CEO of Easel TV, "the problem is that this means sacrificing both big data analytics and the direct end-customer relationship. The counter argument is that channels benefit from product exposure at the vMVPD menu level, with the concern that without this exposure you might not be found".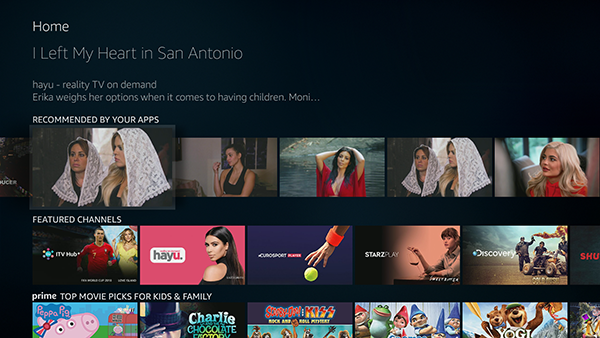 Easel TV looks to overcome this barrier by adding content discovery features on market-leading device platforms which deep link into a client's own service, whether this is on a vMVPD service device or on a MSO set-top box (STB). Easel TV has added discovery functionality through the Amazon Partner Managed Row on Fire TV and Voice Skills-enabled search, Apple's TV app and platform search, voice-led discovery on the Amazon Echo Show and Fire TV Cube and through in-app purchasing on Amazon, Apple and Roku. Now consumers get exposed to a client's content at the device vMVPD menu level. Traffic received from these sources is tracked with analytics events to build a complete multi-platform view of all external promotions, whether paid or not. And this service level view encompasses a client's service across all devices; vMVPD streaming devices, MSO STBs, web, mobile and tablet apps.
"The difficulty of running individual channels on each vMVPD and pay TV service is that you end up with an administrative challenge.", says Foster, "Isolated editorial & publishing, limited and incongruent analytics that are not owned by you, leading to issues in using that data going forward, such as for driving recommendations and targeted services. We want to give all that power back to our clients."
Easel TV's OTT service provides a view across the whole service and across all devices, for aspects such as transactions, subscriptions and registration reports, the effectiveness of price band sales and entitlement reports as a total service. Editorial, publishing and marketing campaigns, product releases and product positioning equally apply to the whole service and not just the channel or app. Going forward the data is owned by the client and can be used to analyse how effective aspects such as product pricing, release dates and campaigns have been, as well as drive viewing preferences, target product placement and advertising etc.
"Many content providers would prefer to run their own service and have a direct relationship with the consumer, not least because of the potential additional margin that can be made (vMVPDs and Pay-TV can take a huge share of the revenue)", says Foster, "but it's also very important if you're trying to create value in the business that you own the service, own the data and have a tangible consumer base."
If you'd like to find out more Easel TV will be at IBC, please get in touch at contact@easeltv.com or go to www.easeltv.com.
Search For More Content