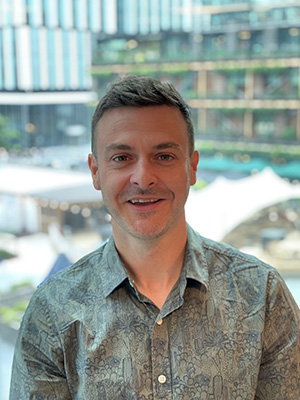 The new company-head will drive the global marketing strategy and focus on the development of cloud based tools to support broadcast and digital content creators
Never.no, the award-winning audience engagement specialist, today announced that General Manager, Ed Abis will lead the company as the new Managing Director, while CEO Scott Davies steps into a non-executive role, following over a decade within the business.
Ed brings an extensive skillset to his new role, having previously worked for rights holders and brands such as Nike, Manchester United, ITV, and Perform/DAZN. Ed's sales, strategy, operational, and commercial expertise, supported by the growing team, will accelerate the company's development and delivery of a more expansive product range for both broadcast and digital sectors.
"First of all, I'd like to thank Scott for his continued support over the years. He has been influential to the success of the company and contributed massively to the way Never.no has been shaped to become a market-leader in audience engagement," said Ed Abis, Managing Director of Never.no. "We're confident the new structure will help us to continue our support of our current clients, but also make our tools more accessible to a wider market. We're at a turning point in the way consumers are interacting with and viewing content on linear and digital platforms. More producers are using Bee-On as a central part of their offering to create audience-centric programming, that not only delivers a captivating experience, but also generates opportunities to monetize content – it's an exciting time to be a content creator!" concludes Abis.
Never.no will be showcasing a range of new features for its award-winning engagement platform Bee-On at IBC in December. Previewing a brand-new user interface and streamlined user experience, alongside additional 3rd-party data widgets to enhance visual storytelling, and extensive messenger and social media integrations. Visit stand 5.G23 to check out the latest feature-set from Never.no.
"I'm really proud of the success of Never.no over the last few years. Working with global broadcasters and being part of a content revolution that's seen a wealth of interactive and stunning programming delivered to millions, has been awesome," said Scott Davies, former CEO of Never.no. "It's been a joy to work with Ed, I have full confidence in his ability to pick up from me and drive the strategy of the business. I'm looking forward to stepping back and contributing within a more hands-off role, as Ed and the team reach the company's full potential," said Davies.
Scott first joined Never.no in 2010 as the VP – EMEA, helping to develop the product offering and connect global brands and broadcasters with tools to create interactive and real-time social for TV and advertising. Moving to CEO in 2014, Scott has been central to a growing client-base, working with the likes of Sky, BBC, Al Jazeera, MTV, and Coca Cola.
About Never.no
Never.no are audience engagement specialists working with global broadcasters, sports properties, brands and content creators.
Never.no's award-winning cloud-based engagement platform, Bee-On, connects audiences with broadcast and digital formats. Empowering production teams with the tools to access, source, filter and manage social content – including images, comments, videos, and polls – to generate engaging formats, by integrating and publishing real-time data and socially generated content into any production. All managed from a web browser and connected to on-premise or remote distributed production workflows.
Bee-On is used by many broadcasters and content providers from around the globe, including BT Sport, Sky Sports, Optus, MTV, ITV, Channel 4, and SBS Australia, plus sports clubs such as Manchester City FC, Leeds United FC, and Western Sydney Wanderers FC.
Search For More Content