New appointment expands EditShare's world-class leadership team as it scales its business with industry leading cloud-based media workflows solutions and services
Boston, MA – March 9, 2021 – EditShare®, a technology leader that specializes in collaboration, security, and intelligent storage solutions, announced today that it has appointed Joe Cozzolino, Executive Chair at TPX, to its board of directors, effective immediately.
"EditShare customers can look forward to an increased pace of innovation, while taking advantage of HPE's forward-looking technology roadmap," states Sunil Mudholkar, vice president of product, EditShare. "HPE has a deserved reputation for building high performing, dependable and cutting-edge servers and storage solutions. Joining forces allows us to focus on our award-winning open software solutions and push the flexibility, scalability, and performance of media-optimized software technology on standard IT hardware."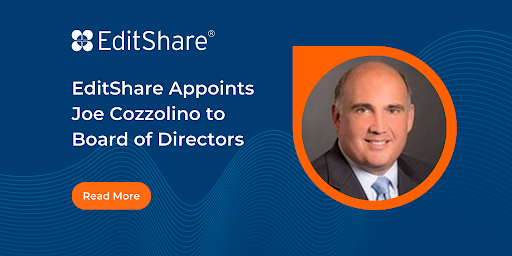 "We are pleased to welcome Joe as an independent director to the EditShare board," comments Conrad Clemson, CEO, EditShare. "Joe brings a wealth of experience and a track record of success in advising technology companies as they scale their product and services offerings."
Cozzolino brings over 30 years of experience in enterprise and consumer services, with deep expertise in media technologies to EditShare's board of accomplished business leaders and technology innovators.
"EditShare is changing the dynamics of video production by focusing on open solutions for collaborative storage and media management on-premise and in the cloud," comments Cozzolino. "I look forward to working with this innovative company and helping them scale their industry-leading solutions and services."
Prior to his role at TPX, Cozzolino was responsible for growing Cisco's global services business.  He has also served in executive level positions at Cisco, Motorola, and several Boston-based startups. To learn more about Cozzolino please visit: https://www.linkedin.com/in/joecozzolino/.
About EditShare
EditShare is a technology leader in networked shared storage and smart workflow solutions for the production, post-production, new media, sports, and education markets. Whether you need on-prem, cloud, or hybrid solutions, our products improve efficiency and workflow collaboration every step of the way. They include media optimized high-performance shared storage, archiving and backup software, a suite of media management tools and a robust set of open APIs that enable integration throughout the workflow. Customer and partner success are at the heart of EditShare's core values ensuring a world-class experience that is second to none.
Search For More Content