ELEMENTS Introduces New High-Performance Storage Appliance and Enhanced Workflow Automation at NAB 2019
Wed 20, 03 2019
ELEMENTS BOLT to be seen on Booth SL11510 for the first time
Dusseldorf, Germany, Mar 19, 2019: ELEMENTS, developer of advanced solutions for unrestricted collaboration in shared media workflows, is launching an entirely new storage appliance at NAB 2019. ELEMENTS BOLT provides lightning fast performance with ultra-high bandwidth and double the throughput from a compact 2U chassis, even when working in resolutions of 8K+. Leveraging the power of Peripheral Component Interconnect Express (PCIe) high-bandwidth bus technology and without the limitations of standard SAS/SATA bus technology, BOLT provides up to 25GByte/s read performance and delivers high-levels of Input/Output Operations per Second (IOPS) rates with almost zero latencies. ELEMENTS BOLT supports up to 32Gbit Fibre Channel and 100Gbit Ethernet with RDMA. As a highly scalable system, ELEMENTS BOLT can easily provide Petabytes of usable capacity at more than 100GByte/s when set-up as a cluster.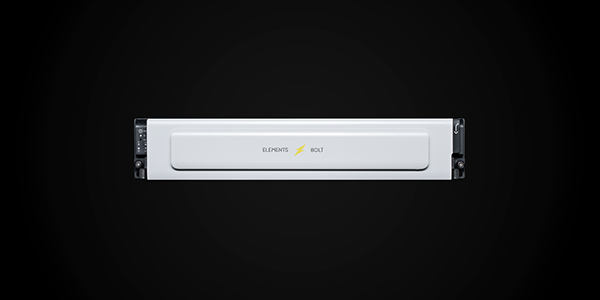 ELEMENTS will demonstrate ELEMENTS BOLT, alongside its entire range of media storage and server appliances, at NAB (booth# SL11510).
ELEMENTS' unique MAM tool "Media Library" will also be demonstrated with several new features. Amongst others, Media Library can now send automatic project updates and notifications to authorized Slack users via a newly implemented Slack interface. A new "smart recycle bin" will also be shown for the first time.
In addition, workflow automation within all ELEMENTS appliances has been dramatically improved. The overhauled edition of ELEMENTS' Task Manager sports a new design with enhanced security features and even more flexible template options, including "automated sub steps," for more precision and accuracy of workflow automation processes.
Visitors can experience the full set of workflow enhancement tools embedded in every ELEMENTS appliance. ELEMENTS Media Library incorporates many one-of-a-kind features, including an embedded media player that can playback up to four videos simultaneously – selectively synchronous and asynchronous, allowing comparison of four editing versions concurrently. The Media Library also contains a Rough-Cut Editor comparable to other professional editing tools that cover a spectrum of editing rough-cut functionalities. In addition, the Media Library editor enhances and simplifies approval and communication processes during projects by allowing for frame-accurate comments and even drawings on the source material to indicate areas of interest.
To schedule a private demo contact events@elements.tv.
Availability
ELEMENTS BOLT will be available at NAB. ELEMENTS' human-centered storage line-up ONE, NAS, GATEWAY, and the mobile storage CUBE are available immediately.
ABOUT ELEMENTS
ELEMENTS, developer of the award-wining all-in-one media server and storage solution ELEMENTS ONE, provides high-performance hardware and software solutions for the post production and broadcast industry. Originally a supplier of high-end turnkey solutions and support for the post- production and broadcast industry, the German solution designers and system engineers leveraged their vast knowledge and expertise in the post-production and broadcast industry to develop ELEMENTS, a line of dedicated products specifically designed to meet the high demands of workflows sharing media. Besides being extremely efficient and delivering excellent performance, ELEMENTS' StorNext-based products provide a truly unique benefit: native project and media sharing capabilities, including AVID Media Composer, Adobe Premiere, Apple Final Cut Pro, and other non-linear editing and VFX applications. Equipped with an all-embracing package of exceptionally easy and intuitive management and workflow enhancement tools, ELEMENTS contributes to significantly simplified and increased collaboration and streamlined workflow processes. With almost 15 years of experience incorporated into the products, ELEMENTS has earned a reputation as a provider of exceptionally customer-favorable solutions that deliver high-performance while being easily maintained and managed while virtually requiring no IT skills.
Related Content
Based on your recent activity and preferences we recommend the following pieces of content