Operators can benefit from the latest integration in Etere Automation that enables the insertion of configurable time delay. The feature provides on-the spot removal or replacement of content just before broadcast.
Etere ETX integrates time delay capabilities to provide users with the highest-level of control and flexibility over on-air program feeds in the playout. The time delay feature allows the operator to insert a configurable delay, between live feeds and what the audience sees. Program delays in live broadcast help to prevent bloopers and undesirable content from making it on-air. The latest addition to the feature lineup enables on-the-fly editing and advanced control over the on-air program, ensuring that broadcasters have everything they need from a single console.
Etere integrates a multi-functional and automated time delay into its software to provide you with all the tools you need on a single GUI. In a matter of seconds, the operator can configure the duration of time delay, insert pre-recorded materials and select clips to be removed on-the-fly, just before broadcast. Not only that, it allows users to perform a delayed transmission while simultaneously ingesting media files. Etere supports SDI/IP/NDI inputs and outputs, providing you with the flexibility to choose the system that you need.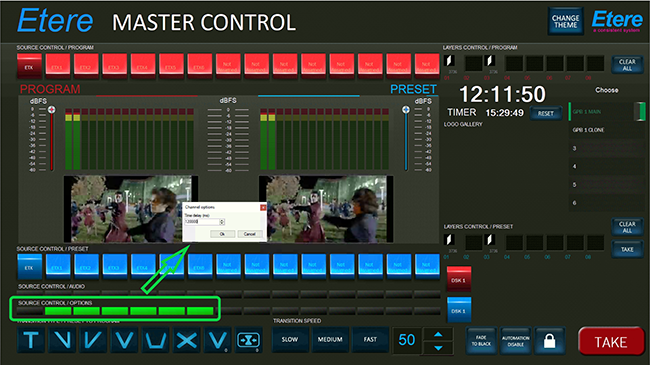 Etere Time Delay is a smart automation program that enables the shifting of feeds for multiple broadcasts on different time zones. The shifted version can have different commercials or censorship properties. It allows the dynamic insertion of a configurable time delay in the clips captured by the Etere Ingest.
Etere Time Delay can be customised with the following options:
■ Set the number of frames to delay the stream for frame accuracy
■ Adjust compression quality
■ Set the time interval for the synchronization of delayed video
■ Time delay can be configured with different offsets for various signals, this provides users with the flexibility to easily manage the time delay for multiple different signals simultaneously
In addition, Etere Time Delay allows commercial events to be configured for specific program types including live programs. If the live news has a duration that is either less or more than its expected duration, all related commercials will remain consistent.
Full Redundancy for Etere Time Delay
The time delay in Etere ETX is all set up for full redundancy in order to achieve a fault-resilient performance. Etere playout automation's database-independent capabilities enables different levels of fault tolerance including backup mode, master-clone mode and disaster recovery mode. The distributed architecture of Etere solutions ensures system reliability.
Etere ETX
Etere ETX empowers you with all the playout features you need, including cloud playout, ingest, automation, master control and interactive graphics with consistent precision for even the most demanding of environments. With Etere, you are empowered with the most flexible tools to manage even changes on the fly and complex playlists with multiple secondary events.
Etere ETX Key Features
■ Multiple graphics and webGL graphics overlays
■ Capture web pages as live multimedia sources
■ 4K, HD, and SD with Up and Down conversion
■ RTMP input and integrated time delay
■ Serves as a RTMP sender or RTSP receiver
■ Full IP support for both HD and SD videos, supports NewTek NDI
■ Supports multiple layers of graphics
■ Fully compliant DVB (Digital Video Broadcasting) stream
■ Supports Microsoft ReFS File System, cloud-ready
■ Included graphics engine allows overlay of static/animated logos and crawlers on 8 layers
■ Able to perform IP in and IP out, with multiple frame rates and independent IP out services
■ Integrated IT-based master control with multichannel ingest/playout
■ Easy insertion of closed captions including CEA 608 and CEA 708 with ETX inserter
■ Create live subtitling seamlessly with ETX inserter and time delay
■ SDI output with support for selected cards (SDI or IP) including Blackmagic, Matrox
■ File formats includes LXF, MOV, MXF, GXF, ASF, MPG-TS, MPG-PS, AVI, DV and MKV
■ Video codecs includes DVCPRO, MPG1, MPG2, MPG4, H.264, HEVC/ H.265, DNxHD, ProRes
■ Audio codecs includes AAC, MP2, MP3, Flac
■ Graphics files includes TGA, AVI, MOV, SWF, PNG, JPEG, GIF
■ Plays files from 5 secs
Etere provides the solutions that matter to you. Get in touch with us to learn more about how you can enhance your broadcast strategy. For more information, please write to info@etere.com
Search For More Content