Etere lets you customise your web experience and create profiles that you can retrieve, modify and share easily.
Customizing your profile preferences and saving your configurations is easy with Etere. Etere Collection provides a set of web tools that allows you to save your configuration settings, API and user interfaces from the web interface. With a custom profile, you can ensure your Etere interface is always aligned with your channel branding for different stations.
Not only that, you can look forward to improved business processes and faster workflows with Etereweb. Etere provides the software tools to drive your business and improve collaborations across your departments and beyond the office.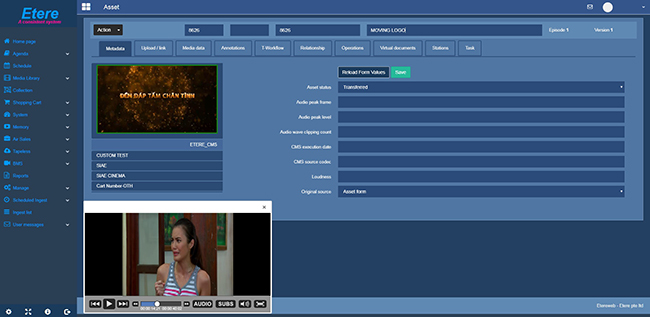 Etere Collection provides benefits including
■ Create custom profiles for different channels
■ Reduces repetitive tasks
■ Prevents data loss
■ Launch a workflow with saved profiles
■ Search, retrieve and share data with others easily
■ Drive collaborative workflows
■ Preview assets directly on T-Workflow monitor
Additionally, you are able to share the collection with other users or launch a workflow with the click of a button. Etere allows you to operate more efficiently and rise above the challenges of media management. For more information, please write to info@etere.com
Search For More Content