European Parliament wins 'Public Sector Project of the Year' at AV Awards in London
Fri 18, 10 2019
London, Friday 11 October 2019. The European Parliament and Lawo are among the winners of a coveted AV Award, with the EP's Mission Transparency project receiving the "Public Sector Project of the Year" award.
Dubbed "the Oscars of the A/V world", the AV Awards were held at London's Battersea Evolution venue. The judges recognized the formidable challenge of the project, which has resulted in a groundbreaking approach and a massive audio- and video-over-IP infrastructure with maximum scaling flexibility. The entire network is managed via a custom GUI for secure control over thousands of audio and video channels. The project is based on an open-standards (ST2110, AES67, Ember+) and manufacturer-agnostic platform.
Changing the perception of the EP and encouraging citizens to take note of what goes on inside, and to cast their votes at election time, has become the central mission of the EP's Audiovisual Unit. Its highly successful 2019 campaigns were only two highlights of an ambitious project that is now fully up and running, with more than 640 video streams and over 9,000 audio channels on the EP's redundant IP network at any given moment, both on-premise and inter-city.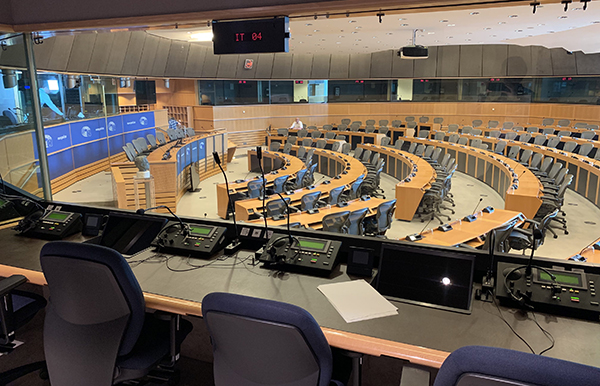 Any spoken word in any language is now available to anyone, anywhere, and the IP-based audio routing and mixing infrastructure is seamlessly connected to the conferencing systems of all 85 meeting rooms in Brussels and Strasbourg, complete with simultaneous translations into up to 32 languages.
In addition to the in-house staff, the European Parliament called in the help of outside service providers, including Lawo, an accomplished provider of network, video, audio and control solutions.
The strategic decision at the heart of the project was to base the new system on IP links between the various sites to accommodate HD video, audio and control transport, and the ability to handle thousands of concurrent audio and video data streams. The system spans several buildings (distances of up to 350m) and two parliaments (450km apart). The result is one of the most complex A/V infrastructures in the world.
Debates and meetings result in a live video program with up to 24 audio feeds; the signals coming from the conference rooms and the interpreters are supplied to a Lawo V__remote4, which embeds the audio in two SDI signals (each capable of carrying up to 16 audio channels in addition to video) and takes care of lip-sync. The two SDI signals are converted into IP streams and transmitted to the EP's Multimedia Center, where they are encoded, streamed and distributed.
Other forward-looking decisions were to purchase a powerful audio router without a physical control panel, the use of Lawo V__matrix software-defined IP video routing and processing blades and of Lawo's Virtual Studio Manager (VSM) for overarching facility management. The format- and manufacturer-agnostic VSM control system allows operators to patch, route, tweak and monitor video and audio signals in both the IP and baseband domains.
VSM also controls all relevant A/V devices on the premises and in "the other city" over a redundant spine/leaf 40/10GbE IP network, and allows operators to monitor and change the status and levels of audio and video signals.
In addition to its EBS and EBS+ TV channels, the European Parliament operates several radio channels, which are also connected to the campus-wide IP network.
"Mission Transparency is a good example of how one step logically leads to the next," commented Dirk Sykora, Lawo's system architect for this project. "Well-informed decisions at crucial stages made it easy to scale the installation at a breathtaking pace by adding more functionality as needed. The European Parliament can be proud of an AV system that is truly unique."
Jamie Dunn, Lawo's CCO, added: "I can't help being impressed by the number of audio channels and video streams that whiz across the European Parliament's IP network, and by the user interface provided with the help of our VSM system and IP solutions. Well done everybody!"
About Lawo
Lawo designs and manufactures pioneering network, control, audio and video technology for broadcast and post production, as well as live performance and theatrical applications. Products include control and monitoring systems, digital audio mixing consoles, routers, video processing tools as well as solutions for IP-based A/V infrastructures and routing systems. All products are developed in Germany and manufactured according to highest quality standards at the company's headquarters in the Rhine valley town of Rastatt, Germany. For additional information, please visit www.lawo.com.
Related Content
Based on your recent activity and preferences we recommend the following pieces of content