The new plug and play solution combines SDI and IP capabilities to offer greater routing agility and scalability.
Liège, Belgium, June 29th, 2021: EVS has announced the introduction of MediaInfra Strada, a turnkey solution which combines SDI and IP routing capabilities in a single, easy-to-deploy system based on EVS' field proven Cerebrum and Neuron product lines. Together with Arista ethernet switches, the solution has been designed to offer broadcasters a direct, drop-in replacement for their outdated or end-of-life SDI routers, with the option to seamlessly transition to full IP infrastructures when the time feels right.
"While the transition to IP is very much ongoing, baseband SDI is still a reality today and both signal formats are likely to coexist within the same production infrastructures for some time. With our turnkey MediaInfra Strada solution, broadcasters can easily and safely replace their current SDI router with an IP-based system which still has SDI inputs and outputs" explains Peter Schut, SVP Media infrastructure at EVS. "So from a user perspective, it has the same look and feel as a traditional SDI routing solution, but is ready to deliver all the game-changing benefits of IP in terms of agility and scalability."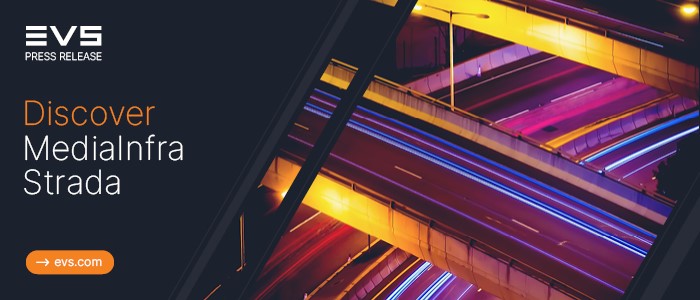 "From a user perspective, it has the same look and feel as a traditional SDI routing solution, but is ready to deliver all the game-changing benefits of IP in terms of agility and scalability." – Peter Schut, SVP Media Infrastructure at EVS
The solution leverages Cerebrum's advanced router logics and completely customizable user interfaces, as well as Neuron's flexible IP and SDI I/O for uncompressed real-time video and audio, to enable broadcasters to meet all workflow requirements and accommodate all signal formats. Arista ethernet switches with 100Gb/s ports complement the package providing high-performance IP network operations. It is delivered as a single, compact and pre-configured system for quick and easy deployment within existing infrastructures. It is also linearly expandable in a combination of inputs and outputs ranging from 256 I/O to 1024 I/O, providing the flexibility needed for future growth with significant operational cost savings further down the road. As a turnkey solution, MediaInfra Strada comes with access to 24/7 support via a single point of contact, guaranteeing structured assistance and seamless operations.
"Migrating to an IP-based network infrastructure opens up new and exciting opportunities but the idea of managing IP signals can be daunting," said Peter. "MediaInfra Strada is all about making things simple by providing customers with a straightforward and easy-to-deploy solution with access to expert assistance whenever and wherever they need it for extra peace of mind. As a result, our customers can fully embrace the advantages of IP without having to deal with the associated complexities themselves," he adds.
Nestor Amaya, VP Solutions Architecture at EVS concludes: "Today broadcasters who prefer to keep their traditional SDI infrastructures do so with unease, fearing that their decision will not take them to where they need to go in a year or two. On the other hand, those who choose to deploy an IP-based infrastructure do so with a tightening of the jaw, fully aware of the pain that awaits them when configuring, troubleshooting, and paying for their cutting-edge system. MediaInfra Strada removes that pain, by letting production infrastructures become unseen, unheard and out of mind whether SDI, IP or hybrid."
About EVS
We create return on emotion
Globally recognized as the leader in live video technology for broadcast and new media productions, our passion and purpose are to help our customers craft compelling stories that trigger the highest return on emotion. Our comprehensive range of solutions enables media companies and content creators to deliver the most gripping live sports images, buzzing entertainment shows and breaking news content to billions of viewers every day – and in real-time.
The company is headquartered in Belgium with offices in Europe, the Middle East, Asia and North America, and provides sales and technical support to more than 100 countries. EVS is a public company traded on Euronext Brussels: EVS, ISIN: BE0003820371.
Search For More Content