IP-based replay and highlights solution delivers unprecedented usability, flexibility, speed and control for live productions
EVS, the leading provider of live video technology for broadcast and new media productions, today announces the launch of LSM-VIA. Based on its iconic LSM live slow motion control panel, the new IP-based replay and highlights solution gives production facilities and service providers the tools they need to tell the live stories they want with amazing flexibility, greater functionality and fewer keystrokes. Developed in close collaboration with EVS' community of highly skilled operators, it meets today's and tomorrow's industry demands while maintaining EVS' trademark speed and reliability, empowering users to address all live production expectations.
With the remote's familiar layout, LSM-VIA has been designed with usability in mind. Operators can jump right into this enhanced experience with confidence, while benefitting from newly designed ergonomics and advanced capabilities, including simple workflow integration, unique operational macros, and semi-automated functionalities. The remote's programmable buttons, shortcuts and simple tactile control provide faster access to more functionalities, while the integrated touchscreen offers fully contextual menus to give operators what they need, when they need it. Users can also easily organize network records, running order clips and playlists, with direct access at the touch of a button.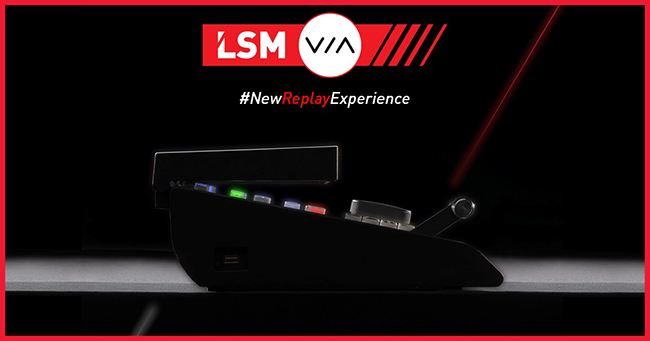 Working with the XT-VIA server and relying on EVS' VIA microservices ecosystem, LSM-VIA interacts seamlessly with all VIA-based products to open up exciting new workflows and provide faster and direct access to all the content on the live production network. And with native IP connectivity and software-defined technology onboard, LSM-VIA commits to the latest technologies to ensure users are ready to address all future live production demands with a new-found level of efficiency.
By decoupling the operation of the LSM-VIA from the server managing multiple channels, many different flexible deployment models can be supported, including remote and even multi-site simultaneous production. This dynamic assignment of the channels on geo-distributed XT-VIAs to geo-distributed operators offers a more optimized way of managing their time and talents, while allowing them to work from anywhere, at any time.
"With LSM-VIA, we're reinventing the operation, workflows and deployment of live production replays to enable more creativity while optimizing operators' resources and talents," said EVS CEO Serge Van Herck. "LSM-VIA doesn't just offer a new level of control; it completely redesigns the operator experience. From the contemporary interface to the entire VIA production environment, to distributed asset management linked to enhanced metadata, EVS' new IP-based replay and highlights solution provides operators with a more productive, flexible and efficient environment to work in."
Laurent Petit, SVP Products & Solutions, added: "When combined with other elements of the VIA platform, LSM-VIA supports new workflows to automate some of the cumbersome tasks operators have traditionally had to deal with, instead letting them focus on creativity. It offers experienced LSM operators a consistent experience so that they can be productive from day one, while providing new generations of operators with disruptive modes for producing new formats of creative replays. It's the next generation of live content production – meeting all the needs of operators now and for many years to come."
For more information on EVS and its complete range of live video technology for broadcast and new media productions, please visit www.evs.com.
ABOUT EVS
We create return on emotion
EVS is globally recognized as the leader in live video technology for broadcast and new media productions. Our passion and purpose are to help our clients craft immersive stories that trigger the best return on emotion. Through a wide range of products and solutions, we deliver the most gripping live sports images, buzzing entertainment shows and breaking news content to billions of viewers every day – and in real-time.
The company is headquartered in Belgium with offices in Europe, the Middle East, Asia and North America, and provides sales and technical support to more than 100 countries. EVS is a public company traded on Euronext Brussels: EVS, ISIN: BE0003820371.
Search For More Content