Ottawa, ON – FileCatalyst, an Emmy® award-winning pioneer in managed file transfers and a world leading accelerated file transfer solutions provider, has announced that they will be launching a new cloud-based turnkey file transfer service; FileCatalyst Spaces. FileCatalyst Spaces provides a monthly-based pricing model that allows users to only pay for their subscription and the data they transfer. They will be showcasing this new fast file transfer service at the NAB Show this year in Las Vegas in Booth SL12116.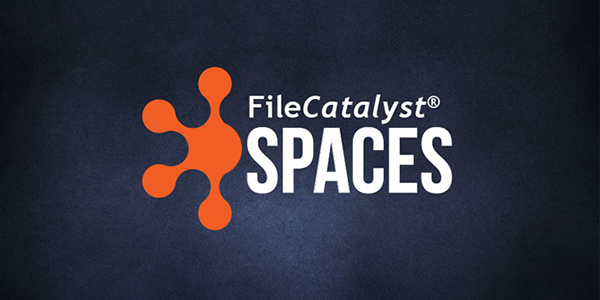 FileCatalyst Spaces leverages the core functionality of FileCatalyst Workflow, as well as FileCatalyst's proprietary UDP-based fast file transfer technology. FileCatalyst Spaces eliminates slow file transfers by overcoming the limits that the FTP protocol, packet loss and latency place on file transfers moving across the WAN.
Being a cloud-based service, FileCatalyst Spaces is accessible from any modern browser and alleviates storage, hardware and maintenance costs from the end user by securely hosting and managing the service. Flexible data storage options allow users to either use the cloud storage provided by FileCatalyst Spaces or users have the option of bringing their own cloud storage. FileCatalyst Spaces supports, Wasabi, AWS S3, Azure Blob, Google Cloud Storage and Backblaze B2.
In addition, FileCatalyst Spaces offers the ability for organizations to use their own FileCatalyst Server, which can be licensed through perpetual, Per-Hour or consumption Per GB models.
Some of the key features include:
Custom Upload Forms: create custom metadata fields for job submissions, accommodating almost any large-scale file transfer workflow.
Distribution: send files of any size to any email address at accelerated speeds.
Shareable Web-Based Folders: create shareable folders for users and groups to share large datasets and collaborate with others.
Automated Transfers: FileCatalyst HotFolder is available as an add-on feature for automation and synchronization tasks.
Customizable Web Portals: Create multiple file transfer portals for unique use cases.
Brandable: Extensive HTML5 customization features allow you to create an aesthetic that matches FileCatalyst Spaces with your corporate identity.
No browser plugin or client application required for non-accelerated uploads/downloads.
Fully managed and hosted cloud service.
FileCatalyst's Co-Founder & President John Tkaczewsk joined FileCatalyst's Director of Strategic Partnerships & Cloud Services, Elton Carneiro, for a webinar that talks about this new service, it's features and pricing. Watch the full webinar here.
To learn more about FileCatalyst Spaces, or sign up for the service, visit https://filecatalyst.com/spaces.
For those attending NAB 2019 in Las Vegas and want to learn more, FileCatalyst will be exhibiting in Booth SL12116 from April 6-11. Visit FileCatalyst's Event Page and fill out the "Book a Time to Meet with Us" section to arrange a meeting with a representative.
If you are not yet registered to attend NAB 2019, use passcode V4685 to get a free pass to NAB 2019 (Valid until March 24th, the code then becomes a 50$ discount).
About FileCatalyst
Located in Ottawa, Canada, FileCatalyst is a pioneer in managed file transfers and an Emmy® award-winning leader of accelerated file transfer solutions. The company, founded in 2000, has more than one thousand customers in media & entertainment, energy & mining, gaming, printing, military, and government including many Fortune 500 companies. FileCatalyst is a software platform designed to accelerate and manage file transfers securely and reliably. FileCatalyst is immune to the effects that latency and packet loss have on traditional file transfer methods including FTP, HTTP or CIFS. Global organizations use FileCatalyst to solve issues related to file transfer including content distribution, file sharing, and offsite backups. To learn more visit www.filecatalyst.com or on Twitter @FileCatalyst.
//php echo do_shortcode('[tag_groups_cloud append= ({count}) collapsible=1 groups_post_id=0 tags_post_id=0 hide_empty_tabs=1 hide_empty=1 separator= | link_target="_blank" show_not_assigned=1 not_assigned_name=Tags div_class="custom-tagGroups-for-post-page"]'); ?>
Search For More Content
//php echo do_shortcode('[contextly_main_module]'); ?>