New partnership with ATC Labs directly integrates professional ten-band audio processing capability, reducing equipment costs and rack space within studio and transmitter facilities 
CINCINNATI, October 27, 2021 — GatesAir, a global leader in wireless, over-the-air content delivery solutions for radio and TV, introduces an embedded software innovation that can save Intraplex IP Link customers thousands of dollars in auxiliary equipment. The innovation adds professional ten-band audio processing software from ATC Labs, a specialist in audio compression and processing technologies, within two recently announced GatesAir Intraplex single and multi-channel transport solutions.
GatesAir will add ATC Labs' Perceptual SoundMax Audio Technology to its Intraplex IP Link 100c hardware codec and its scalable Intraplex Ascent cloud transport platform. Broadcasters who activate this accurate high-resolution audio processing functionality within either product will eliminate the costs and rack space of an external audio processor, while achieving exceptionally bright and open sound. Both integrated solutions are now shipping.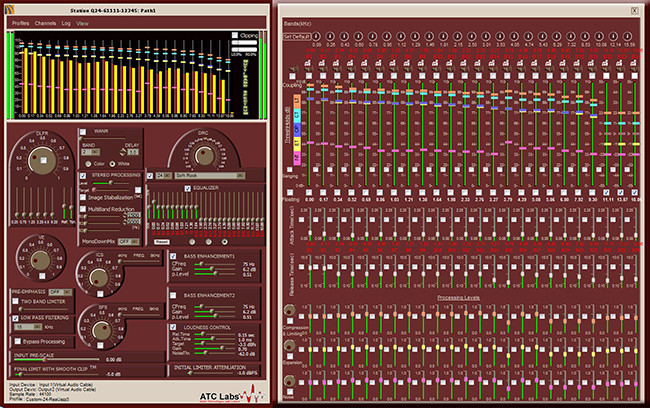 "Higher-resolution audio processing brings far better control to broadcasters as the technology affects only the specific and targeted audio characteristics," said Dr. Deepen Sinha, CEO, ATC Labs. "In Perceptual SoundMax, high-resolution audio processing technology is combined with psychoacoustic principles and wide-band perceptual models, which ensures the greatest possible accuracy in tuning the sound quality for each application. This leads to great sounding audio with consistent loudness that is pleasing to the ear, minimizes listener fatigue, and never sounds over-processed. This processing also inherently reduces the perception of artifacts introduced due to digital compression codecs, which are integral to audio transport solutions. Combined with GatesAir's innovative Intraplex products, we can together provide sophisticated audio transport solutions that also enhance audio quality for FM and digital radio broadcasters."
GatesAir introduced Intraplex Ascent in late 2019 and followed with the IP Link 100c late last year. The Intraplex IP Link 100c codec provides broadcasters with a very cost-efficient, integrated single-channel solution for remote contribution, Icecast streaming and standard STL IP connections. Intraplex Ascent's scalable platform accelerates migration to a software-based, cloud transport solution that can seamlessly scale audio processing requirements for multiple channels.
Both solutions include standard Intraplex features such as Dynamic Stream Splicing software for stream repair and redundancy, SRT protocol support, and Intraplex SynchroCast simulcasting across multiple transmitters.
Keyur Parikh, Vice President of Engineering, GatesAir, adds that ATC Labs' dense ten-band audio processing improves broadcast audio quality by removing artifacts and emphasizing certain frequencies. He calls the two technologies complementary in performance, while ensuring clean integration for Intraplex customers operating at any scale.
"ATC Labs is at the forefront of AI-based audio processing technology, used by leading terrestrial and satellite radio broadcasters worldwide," said Parikh. "Instead of buying two separate hardware products, our customers have the best of both worlds in one professionally integrated solution. Broadcasters can activate the audio processing engine at the source or destination, providing broadcasters with a robust, reliable and flexible Intraplex solution that is competitively priced with a quick ROI."
GatesAir will demonstrate both integrated Intraplex IP Link solutions for the first time at IBC2021, taking place December 3-6 at RAI Amsterdam. GatesAir exhibits at Stand 8. D60.
About GatesAir            
GatesAir, Inc., a portfolio company of The Gores Group, provides complete solutions for over-the-air radio and television broadcasting, leveraging wireless spectrum to maximize performance for multichannel, mission-critical services. Powering over-the-air networks worldwide with unparalleled reliability for nearly 100 years, GatesAir's turnkey solutions enable broadcasters to create, transport and transmit radio and TV content.  With customers in more than 185 countries, the company leads the industry in innovation and design breakthroughs, improving efficiency and reducing total cost of ownership with all products designed and assembled in the USA. Visit www.gatesair.com for more information, Like us on Facebook https://www.facebook.com/gatesair, and follow us on Twitter at @GatesAir.
About The Gores Group
The Gores Group, founded in 1987 by Alec Gores, is a global investment firm focused on acquiring controlling interests in mature and growing businesses which can benefit from the firm's operating experience and flexible capital base. The firm combines the operational expertise and detailed due diligence capabilities of a strategic buyer with the seasoned M&A team of a traditional financial buyer. Over its 30-year history, The Gores Group has become a leading investor having demonstrated a reliable track record of creating value in its portfolio companies alongside management. Headquartered in Los Angeles, The Gores Group maintains offices in Boulder, CO, and London. For more information, please visit http://www.gores.com.
About ATC Labs          
ATC Labs is an audio and multimedia technology company that provide world-class audio/video technology components, products and solutions, with a special focus on audio compression and processing technologies. ATC Labs core know-how includes AI based audio analysis and enhancement, accurate high-resolution signal processing, psychoacoustics, accurate perceptual modeling, and DSP.  The Perceptual SoundMaxTM line of high-resolution audio processing technology was introduced as and API and software/hardware products first in 2013 and has since rapidly increased in popularity, being deployed by some of the largest terrestrial FM and Staellite Radio broadcasers worldwide. Over the years it has been further enhanced using AI/ML algorithms. Visit www.atc-labs.com for more information.
Search For More Content