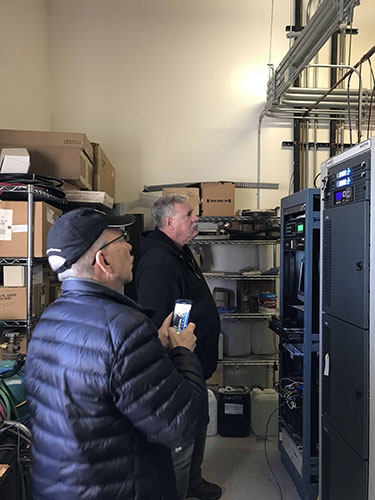 Denver-based PBS network embraces GatesAir Maxiva transmitter family to improve reliably, efficiency and coverage for multiple transmitter sites, covering everything low-power translator sites to high-power repack systems
CINCINNATI, June 23, 2020 — GatesAir, a global leader in wireless, over-the-air content delivery solutions for TV and radio, announces that Rocky Mountain Public Media, owner of a statewide Colorado network of PBS member stations, has purchased multiple GatesAir Maxiva UHF transmitters and ATSC 3.0-ready XTE exciters as part of an extensive, multi-station upgrade. The investment will improve efficiency, strengthen coverage and reduce maintenance across the network's over-the-air operation, and prepare transmitter sites for next-generation IP-based content management and delivery.
Rocky Mountain PBS, owned and operated by Rocky Mountain Public Media (RMPM), is taking a phased approach to transmission upgrades that will address the entire network over several years. The first phase was initiated through a repack project for KRMA-DT in Denver, a 30kW station, 100kW ERP, repacked from UHF Channel 18 to 33. The Channel 33 assignment required a new transmitter, with Rocky Mountain PBS purchasing a Maxiva ULXTE-50 liquid-cooled model and a backup UAXTE-6 air cooled transmitter, transmitting at 3kW.
During the KRMA project, station engineers also evaluated vendor options for several other transmitter sites. Rocky Mountain PBS exclusively selected GatesAir Maxiva UAXTE air-cooled transmitters for all additional stations in the first phase, providing station engineers with a common high-efficiency, solid-state transmitter for each site. To date, Rocky Mountain PBS has purchased UAXTE medium-to-high power transmitters for three full-power PBS member stations, and low-power UAXTE systems for several translator sites. The translator sites deliver over-the-air program signals across rural areas of Colorado, and portions of neighboring states.
"Colorado's challenging terrain and rural communities require transmission equipment that is powerful and reliable enough to maximize signal coverage, using high-efficiency technology that keeps our operations costs to a minimum," said Doug Houston, Chief Technology Officer for Rocky Mountain Public Media, Denver. "GatesAir's Maxiva family also offers a broad range of advanced options to serve all power levels, ensuring a good fit for each station's unique requirements. The ability to remotely control each transmitter and support IP content delivery from our studios provides greater value for our investment."
The Rocky Mountain PBS transmission equipment upgrade coincides with the move of two of RMPM's media properties—KRMA-DT and KUVO-89.3FM radio—to the new Buell Media Center in downtown Denver. This three-story, multi-purpose facility houses studio and master control facilities for these stations, along with other local non-profit media organizations. Rocky Mountain PBS plans to install an IP-based networking platform to distribute TV content to the KRMA transmitter site on Mt. Morrison and build out similar IP-based connections to serve other transmitter sites.
Maxiva UAXTE-2 for KRMA's translator site, relaying the signal to the Fort Collins market
Maxiva UAXTE-3 for KRMJ-DT, serving Grand Junction
Maxiva UAXTE-3 for KRMU-DT, serving Durango
Maxiva UAXTE-1 for translator station K32CW, serving Montrose
Maxiva UAXTE-100 low-power translators, serving five rural communities (Silt, Waterdog, Salida, Rifle, and Badger)
"The Rocky Mountain PBS upgrade project is a prime example of the versatility that GatesAir offers for any broadcaster as we begin to move beyond the spectrum repack," said Joe Mack, Vice President of Sales, North America, GatesAir. "By serving power levels as low as 100 Watts for Rocky Mountain PBS, they can count on the same high-efficiency, solid-state platform to serve each station, with common spare parts and a modular architecture that will bring down the costs and man-hours of servicing older tube transmitters. We look forward to working with Rocky Mountain PBS on future projects, and helping them prepare their infrastructure for NextGen TV and other broadcast opportunities that lie ahead."
About GatesAir   
GatesAir, Inc., a portfolio company of The Gores Group, provides complete solutions for over-the-air radio and television broadcasting, leveraging wireless spectrum to maximize performance for multichannel, mission-critical services. Powering over-the-air networks worldwide with unparalleled reliability for nearly 100 years, GatesAir's turnkey solutions enable broadcasters to create, transport and transmit radio and TV content.  With customers in more than 185 countries, the company leads the industry in innovation and design breakthroughs, improving efficiency and reducing total cost of ownership with all products designed and assembled in the USA. Visit www.gatesair.com for more information, Like us on Facebook https://www.facebook.com/gatesair, and follow us on Twitter at @GatesAir.
About The Gores Group
The Gores Group, founded in 1987 by Alec Gores, is a global investment firm focused on acquiring controlling interests in mature and growing businesses which can benefit from the firm's operating experience and flexible capital base. The firm combines the operational expertise and detailed due diligence capabilities of a strategic buyer with the seasoned M&A team of a traditional financial buyer. Over its 30-year history, The Gores Group has become a leading investor having demonstrated a reliable track record of creating value in its portfolio companies alongside management. Headquartered in Los Angeles, The Gores Group maintains offices in Boulder, CO, and London. For more information, please visit http://www.gores.com.
Search For More Content